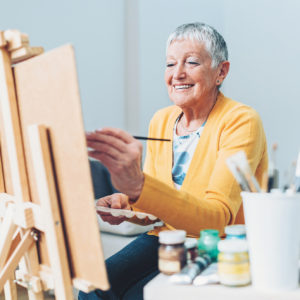 Parkinson's is a complex condition that progresses over the years, and to date, has no cure. It is a neurodegenerative disease that wreaks havoc on the brain, which in turn interferes with the body's fine motor skills. The brain's neurons (nerve cells) are what create dopamine and the deterioration of this process is the cause of Parkinson's disease.
In Parkinson's patients, the dopamine chemical production is slowed down and over time it can be completely diminished. Some of the first symptoms of early Parkinson's' disease are impaired sense of smell, constipation and sleep disorders. These early signs are found in the medulla and the enteric region of the brain. Some patients will have diminished voices, develop rigid muscles and show little to no expression on their faces within the middle stages of the disease.
As the disease progresses, it eventually reaches the substantia nigra region of the brain, which controls the bodies movements. Once this stage is reached, patients have a difficult time controlling their bodily functions, and they develop tremors and have jarring irrepressible movements.
Because there is no cure, the main treatments are given through traditional pharmaceutical medications, which are available to slow down the disease's development. Many of these drugs increase the dopamine in the brain, and in some cases, replaces the dopamine altogether.
Along with medication management, physical therapy for balance and stretching is helpful. Occupational Therapy is critical to help the individual maintain and relearn how to perform daily activities. Speech pathology is also very effective in maintaining and improving speech related issues that the disease so commonly causes.
Long-Term Care Options
Canterfield of Ocala provides specialized care for neurodegenerative disorders like Parkinson's disease, as well as other conditions at various levels of need. They are a neighborhood for independent living, assisted living, and memory care all within the same campus. As we age, it's essential to make living accommodation changes for safety, health, independence, and dependent care needs. A care continuum makes it possible for individuals or couples to choose from a variety of environments and services as their healthcare needs change over time.
Canterfield of Ocala has the most luxurious neighbor community with independent living villas and world-class assisted and memory care facilities. As their residents' age, if necessary, they can move from standard personal care to Canterfield's high acuity or memory care facility.
The Differences in Living Accommodations at Canterfield of Ocala
• Independent Living: Live on your own terms in a private villa but within a safe environment with amenities and the availability to move into the assisted or memory care facilities as needed
• Assisted Living: Nursing staff available to help with medication management, bathing, medical requirements as needed
• Memory Care: License nursing with 24-hour care and security
Couples Can Age Together
The Canterfield community offers residents the care they need throughout the process of aging. Because different care and housing options are available in the same residential setting, couples can continue to live together in light of their differing healthcare needs. This variety of options instills peace of mind where residents can experience optimal aging and have the security of being cared for throughout the process of growing older.
Choosing the Right Option For You
Deciding to transition into an independent community or assisted living facility can be overwhelming. The primary concern for most individuals is the apprehension of not knowing whether or not it will feel like home.
With just one visit to Canterfield of Ocala, they will put your uneasiness at bay. From the kind staff, home-like furnishings, rich woods, and elegant design, each detail is significantly better than you can even imagine, and that's just the beginning.
Canterfield of Ocala's team of talented, compassionate nurses and personal care staff provide care 24-hours each day, seven days a week. They design a personalized and individualized service plan with each resident who receives personal care. Through the efforts of their Wellness Director, care will be coordinated to include a full range of home health, physician and rehabilitation services, allowing residents to remain in the setting they now call "home." To further ensure the continuity of meeting your healthcare needs, Canterfield has worked to establish relationships with hospitals, skilled nursing, and allied health services in the local area.
When you or a loved one are choosing to join an exclusive environment of individuals that benefit from living services, there is no better option for you to make, other than deciding on Canterfield of Ocala as your new home.
To schedule a private tour, please contact Canterfield of Ocala today at 352-877-7100.
9589 SW Hwy 200 , Ocala, FL 34481
352-877-7100
www.canterfieldofocala.com