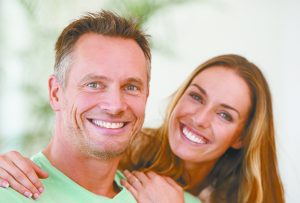 In recent studies, it has been reported that almost 50% of the U.S. adult population has some form of periodontal disease.  That means one out of every two adults over the age of thirty is suffering from some form of gingival bacterial infection.  And depending on whether it is mild, moderate, or severe, these people can experience different degrees of mouth soreness, loose teeth, and discomfort.
It is widely reported that people with diabetes are one of the major groups affected by periodontal disease.  Individuals with diabetes have many co-morbidities that correlate to the issue of their high blood sugar.  Researchers suggest that periodontal disease increases high blood sugar, making individuals with uncontrolled diabetes at greater risk for infections and complications.  These infections and complications in turn increase the severity of the periodontal disease which inevitably leads to bone destruction and loss of teeth.
A person with any form of gum discomfort, bleeding or bad breath, should consult a dentist about getting those conditions treated right away.  Often, just getting a deep scaling, which is a cleaning that goes a little deeper under the gum line, will correct mild to moderate periodontal disease.  Loose teeth and infection in gingival tissues can be easily treated by a periodontist (periodontal gum specialist) using techniques such as deep scalings, gingival grafts, laser treatment, and other pocket reduction procedures.
There are things that an individual can do to prevent gum disease at home.  The obvious is regular tooth brushing.  That means a good two-minute brushing routine that gently cleans all surfaces of the teeth.  The importance of flossing cannot be stressed enough.  Dentists and hygienists convey this message regularly to their patients, but unfortunately in our fast-paced lives, many people think it is too time-consuming to floss daily. The reality is it only takes a minute to floss.  When flossing is neglected, food and bacteria can be harbored in the interproximal space between teeth thus leading to periodontal disease.  Consistent home care coupled with visiting your dentist on a regular basis is vital to keeping your gums healthy.
It is highly recommended if you have diabetes that you be extra meticulous about brushing and flossing, as well as keeping your blood sugar levels under control.  The normal fasting blood sugar levels are anywhere from 70-99 mg/dl.  The normal A1C, which measures the blood glucose level, should be below 5.7%.
People living with diabetes should consult with their primary care physician or endocrinologist on how to keep their blood sugar levels at the lowest rate possible.  Depending on the type and stage of diabetes indicated, this is usually accomplished through dietary changes, exercise, and medications.
All of the providers at Belleview Dental Center are highly trained in treating periodontal disease.  Belleview Dental Center has an added benefit with a periodontal specialist onsite.  This allows both the periodontal specialist and the other doctors to work together, rather than patients referred to another location for periodontal procedures.  Having a periodontist onsite is another essential service to consider when choosing the right dental group for your oral health needs and convenience.  When you receive dental care from the providers at Belleview Dental Center, you have the confidence of knowing you are receiving care from highly skilled dentists in a family practice established since 1982.
The practice is family-owned and dedicated to delivering the best in general, restorative, implant, and cosmetic dental care for your entire family as well as same day emergency services and extended office hours.  The mission is to ensure your dental experience is positive and stress free.  You will enjoy compassionate, comfortable dental care designed to provide a lifetime of optimal oral health.  Together with our periodontist, all of the doctors at Belleview Dental Center have extensive experience with placing and restoring dental implants.  They are a long heritage of dentists with a great deal of trusted experience.  Your smile will be in good hands with Dr. Henry Sweeny Sr., Dr. Henry "Bo" Sweeny Jr., Dr. Samuel Sweeny and their dedicated staff."
About
Dr. Henry A. Sweeny Jr.
Dr. Henry A. Sweeny Jr. joined the Belleview Family Dental practice in July of 2003 after graduating from the Dental School. He is fondly known to his patients as Dr. Bo. He attended the University of Florida and attained a Bachelor of Science in Food Science, a Masters of Science in Food Science and Human Nutrition and continued at the University of Florida to complete his Doctor of Dental Medicine. Throughout his extensive career Dr. Sweeny frequently attends many continuing education courses and has focused on comprehensive training in Implant Placement and Implant Restoration. He also has advanced education in Cosmetic Dentistry. Dr. Sweeny is a member of the American Dental Association, Florida Dental Association, and the International Team for Implantology. Dr. Sweeny's practice also includes General Dental Procedures, Root Canals, Oral Surgery, Extractions, and Pediatrics. He has a particular passion for Implants and Oral Surgery. Dr. Sweeny is an avid fisherman and in his free time he also enjoys golf, hunting, exercising, volunteering in the community, and can frequently be seen attending Florida Gator football games. He works alongside his Father, Henry A Sweeny Sr. DMD and his Brother Samuel J Sweeny DMD at this treasured local Dental Practice.
Belleview Dental Center
352.245.1188
belleviewdentalcenter.com
10600 SE Hwy 441, Belleview, FL 34420