By Thi T. Tran, DO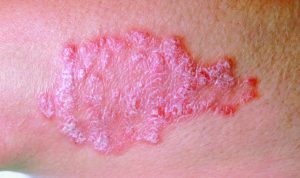 It's easy to think of psoriasis as just a "skin condition," but psoriasis is a long-term complex and chronic autoimmune disease that varies from person to person, both in severity and how it responds to treatment.
According to the National Psoriasis Foundation, "psoriasis is the most common autoimmune disease in the United States, affecting as many as 7.5 million Americans.  An estimated 125 million people worldwide live with psoriasis.  There are multiple types of psoriasis; plaque psoriasis being the most common form of the disease."
Plaque psoriasis is caused by an overactive immune system, triggering inflammation inside the body causing the immune system to send out faulty signals that speed up the growth cycle of skin cells. Normally, it takes approximately a month for skin cells to cycle through the body, but with psoriasis, it only takes 3-4 days.
Since the body is unable to shed skin cells that quickly, the thick, red patches that appear on the skin, called plaques are the buildup of excess skin cells. Any part of the skin surface may be involved, but the plaques most commonly appear on the scalp, elbows, knees and lower back. Although, psoriasis can be itchy, it is not usually painful and most importantly, it is not contagious.
Researchers believe that for a person to develop psoriasis, the individual must have a combination of the genes that cause psoriasis and be exposed to specific external factors known as "triggers." These may include: stress, injury, medications, allergies, diet, weather, strep infection."
The National Psoriasis Foundation states, "Skin inflammation in psoriasis is just the tip of the iceberg – there is increasing evidence suggesting links with serious health concerns."
The American Academy of Dermatology (AAD) states,  "The incidence of Crohn's disease and ulcerative colitis, two types of inflammatory bowel disease, is 3.8 to 7.5 times greater in psoriasis patients than in the general population. Patients with psoriasis also have an increased incidence of lymphoma, heart disease, obesity, type II diabetes and metabolic syndrome.  Depression and suicide, smoking, and alcohol consumption are also more common in psoriasis patients. In addition, psoriasis can have a substantial psychological and emotional impact on patients. Studies have shown that psoriasis patients experience physical and mental disability just like patients with other chronic illnesses such as cancer, arthritis, hypertension, heart disease and diabetes."
The exact cause of psoriasis remains unknown and although, there is no cure for psoriasis, the treatment goal is to minimize or eliminate symptoms. This can be managed with a wide variety of treatment options, based on how serious the disease is, the size of the patches, the type of psoriasis, other medical conditions the patient has and how the person reacts to certain treatments.
There are numerous treatment combinations; but the most common psoriasis treatments based on the American Academy of Dermatology (AAD) recommendations  are:
Topical Treatment:
• Topical treatments are helpful for mild to moderate psoriasis
• Topical treatments include anthralin, coal tar, emollients, salicylic acid, tazarotene, topical corticosteroids and forms of vitamin D
• These topical medications can sometimes be used together with other medications
• Topical corticosteroids are available in many strengths and formulations
In cases of patients with moderate to severe psoriasis, they can be treated with the following options.
Phototherapy Treatment:
• Phototherapy treatment includes narrow-band and broadband ultraviolet B (UVB) and psoralen plus UVA (PUVA)
• Used to slow the growth of skin cells
• Often combined with medication
Traditional Systemic Treatments:
• Traditional systemic treatments are taken orally, or by injection or infusion
• They include acitretin, cyclosporine and methotrexate
• Supresses the immune system
Biologic Therapy Treatments:
• Targets specific parts of the immune system instead of affecting the entire immune system
• Important to prevent infections during therapy
• Patients need to be monitored and evaluation periodically
Living well with psoriasis is more than treating the disease; it means taking an active role in your care and developing habits and routines that support your well being.  Based on research by the Psoriasis Foundation, it suggests, "Current routine practice for psoriasis management in primary care is mismatched with the expressed needs of patients. To address these needs, psoriasis must be recognized as a complex long-term condition involving physical, psychological and social demands, co-morbidity and the development of new treatments.
A board certified professional at Village Dermatology & Cosmetic surgery can evaluate your treatment options, including new and emerging therapies. The patient will play an active role in determining the best treatment option to control their psoriasis.
FACTS:
• Up to 30 percent of the population with psoriasis can develop a painful arthritic condition called psoriatic arthritis
• Psoriasis does not discriminate against – age, gender, ethnicity or socioeconomic status
• Symptoms may improve in the summer and worsen in the winter
• Healthy diet, regular exercise, stress reduction and a strong support network is a good disease management plan.
• The total cost of psoriasis in the U.S. is estimated at $11.25 billion due to medical expenses and lost wages.
Village Dermatology
352-751-6565 | www.villagederm.com
1950 Laurel Manor Drive
Building 220—Suite #224, The Villages, FL 32162