We now have the first and only FDA approved safe and effective treatment that can help you enjoy life without tissues!
By Randall C. Latorre, MD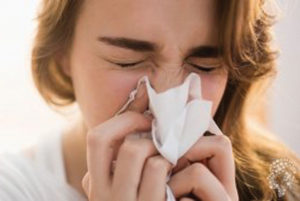 Do you experience these symptoms frequently or on a regular basis?
• Runny nose while eating
• Watery runny nose all day long
• Nasal congestion
• Post nasal drip
• Throat clearing
If you answer YES to any of the above, we have a treatment solution that may be right for you!
ClariFix® Cryotherapy
Over 24 million Americans suffer from chronic rhinitis aka runny nose and its frustrating symptoms, such as the feeling of always having a cold, the constant need for tissues, the frequent urge to clear their throat and interrupted sleep.
Traditional medical treatments such as nasal sprays, drops and pills can help manage chronic rhinitis symptoms for some patients but often does not address the underlying problem and may have side effects. The issue is the inflamed nasal lining and underlying out-of-balance nerves that are causing your symptoms. This results in too many signals telling the nose to drip, run and swell more than necessary. These nerves may be stimulated by allergen or irritants in the air, weather changes, medications, eating or chronic health conditions. Using minimally invasive Cold treatment called 'cryotherapy', the ClariFix® device goes to the root of the problem.
ClariFix® is a quick office-based procedure for the application of cryotherapy to nerves that control the rate of mucus production in the nose. The Doctor will anesthetize the patient's nose in the office procedure room and apply the treatment to each side. After anesthesia, the treatment takes about two minutes. Because no IV sedation or general anesthesia is required most patients return to normal activities the next day. A clinical study demonstrated the following after patients were treated with the ClariFix® cryotherapy.
• A significant decrease in runny nose and congestion symptoms
• 4 out of 5 patients reporting long-lasting relief
• Similar improvement in both allergic and non-allergic runny nose patients
• No device or procedure related serious adverse events.
"I tried everything under the sun to get my nose to stop running. I had to have tissues everywhere I went. It was so frustrating and embarrassing. So when Dr. Latorre mentioned he has a new treatment option, I was anxious to try it, I can't believe how much better it is. My nose felt like a waterfall before, and Dr. Latorre turned it off with ClariFix" -Rebecca S.
The Latorre Sinus Center continually strives to offer patients the most effective minimally invasive treatment options. ClariFix® cryotherapy is a proven treatment option that can be performed in office with minimal downtime.
Are you ready to say good-bye to the tissue box?
For more information or to schedule an appointment to find out if ClariFix® cryotherapy is right for you, visit www.BalloonDocTrinity.com or www.BalloonDoctampa.com or call us at (727)375-8580 or (813)908-8585.
Latorre Sinus Center Sinus & Allergy Center
Tampa Office
12500 N. Dale Mabry Hwy. Suite F
Tampa, Fl 33618
(O) 813-908-8585
(F) 813-355-5905
Trinity Office
8146 Cerebellum Way, # 101
Trinity, FL 34655
(O) 727-375-8580
(F) 813-355-5905
Land O'Lakes Office
2100 Via Bella Blvd, Suite 105
Land O'Lakes, FL 34639
(O) 813-908-8585
(F) 813-355-5905