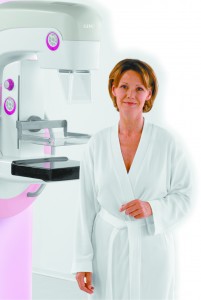 RAO's digital mammography creates sharper, faster images, enhanced viewing angles, immediate storage and transfer to your doctor, easy comparison with previous exams, shorter exam times and the potential for less exposure to radiation.
Sometimes your self-exam, doctor's exam or mammogram may indicate a change in your breast tissue, requiring more extensive testing. Of course you want answers that are quick, accurate and in the hands of doctors with exceptional experience. RAO has 40+ years serving the Marion County area and a team of 17 Board Certified radiologists, including specialists in the most sophisticated and extensive breast imaging technologies available, including:
• Breast MRI –When used in conjunction with mammography, a breast MRI can provide valuable information for the detection and characterization of breast disease.
• Breast Ultrasound – Breast ultrasound uses painless, non-invasive high-frequency sound waves to capture pictures of internal structures of the breast.
• Stereotactic biopsy – When a tumor or nodule is captured by mammogram or ultrasound but is too small to be felt, stereotactic biopsy (using x-ray guidance) is used to find its exact location so your RAO doctor can carefully guide a biopsy needle to obtain tissue for testing.
• Ultrasound-guided biopsy – When a breast ultrasound or mammogram shows an abnormality, ultrasound guidance is used to direct the doctor's instruments to the site of the abnormal growth so that a tissue sample can be taken.
In addition to providing comprehensive breast imaging services, RAO uses Picture Archiving and Communication Systems (PACS), giving your doctor immediate access to your imaging results. We are the only centers with hospital privileges at Munroe Regional Medical Center, Ocala Regional Medical Center, and West Marion Community Hospital.
These are among the reasons that RAO's Women's Imaging Center and TimberRidge Imaging Center have been named among Florida's elite 5% of Breast Imaging Centers of Excellence by the American College of Radiology. We think our caring and understanding play a big role, too.
RAO offers digital mammography without a doctor's referral and hours designed to fit your schedule. Call us any time for an appointment and discover the difference a Breast Imaging Center of Excellence can make.
(352) 671-4300 | www.RAOcala.com