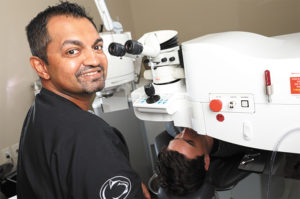 Even otherwise perfectly healthy eyes can be irregular in shape, meaning the eyeball, cornea or lens isn't curved We have to humbly admit that Lake Eye is so frequently enhancing our services and availability in the community that it can be challenging to keep up with it all. So we thought we'd apprise you of the latest advances in our array of procedures designed to help you achieve the clearest, most accurate vision, perhaps of your life.
iLASIK Laser Vision Correction
Most common vision issues are caused by refractive errors, known as myopia (nearsightedness), hyperopia (farsightedness), astigmatism and presbyopia (age-related loss of near vision), in which the eyeball, cornea or lens is shaped imperfectly, impacting how the cornea focuses light.
Most people rely on corrective lenses to allow them to see better, but being dependent on glasses or contacts comes with limitations not everyone wants to live with.
iLASIK is a customized procedure in which a specialized femtosecond laser is used to reshape the cornea so it is more symmetrical, enhancing its ability to capture light and focus it on the retina, promoting crisp, clear vision. What separates iLASIK from ordinary LASIK surgery is the utilization of iDesign, a top-of-the-line eye-mapping technology that captures more than 1,200 data points in the eye, making it 25 times more precise than standard eye mapping techniques. Our iLASIK specialist, Dr. Vinay Gutti, has performed thousands of successful refractive surgeries and is the first doctor in the region to master iDesign, allowing him to deliver safe and accurate laser vision correction and long-term satisfaction. iLASIK technology is so safe and effective, it has been approved for use by NASA and the military. For most patients, iLASIK is able to improve the quality of close-up vision, distance vision, night vision, even depth perception, all in just minutes, returning people to normal activities the very next day – with no or very minimal need of corrective lenses. How cool is that?
Dr. Gutti performs all iLASIK procedures at Lake Eye's advanced, state-of-the-art surgical suite at our sparkling new Tavares location. This office has been designed from the ground up to feature the most advanced technologies, all in a striking and comfortable setting.
Advanced Cataract Surgery
Anyone can develop cataracts, clumps of protein that collect on the lens of the eye, blurring vision and diminishing brightness and color. Cataracts become common among people 55 and older, and every year millions of Americans undergo cataract surgery to restore vision.
If you're going to have cataract surgery, you'd probably like to know about the most advanced procedures and replacement lenses, or IOLs, and Lake Eye is the area's technology leader, with the industry's most innovative cataract removal and IOL selection and placement options.
Lake Eye was the region's first provider to master the groundbreaking Femto Laser procedure, which in just minutes gently removes cataracts without blades or cutting, for superior safety. We also lead the way with state-of-the-art IOLs that address everything from astigmatism to presbyopia (age-related near vision loss), as well as the first FDA-approved extended depth-of-field intraocular lens, which provides continuous vision correction at all distances, similar to natural 20/20 vision. Lake Eye surgeons also perform procedures for glaucoma patients that remove cataracts and help control eye pressure in a single surgical session.
These and other leading-edge technologies, combined with the experience and skill of our ophthalmologists, not only promote superior outcomes, they also create the possibility for outstanding vision for more patients than ever before. How great is that?
Expanding Our Horizons – and Yours
Our highly experienced eye surgery team has performed tens of thousands of restorative and vision-protecting surgeries at our doctor-owned Santa Fe Surgical Center in The Villages. Now Lake Eye is delighted to announce our expansion with construction of our new state-of-the-art Sumter Summit Surgery Center. It will enable us to restore clear, healthy vision to more of our neighbors than ever before.
And remember, we have a brand-new location in Tavares, featuring Lake Eye's exceptional doctors for overall eye care, vision testing, iLASIK, friendly service and our amazing Precision Optics eyewear store. If you haven't visited our new location yet, please stop by!
Come experience friendly, thoughtful, innovative and completely life-changing vision care from the local leader in vision and eye health: Lake Eye Associates.
Lake Eye Associates
352-750-2020
www.lakeeye.com