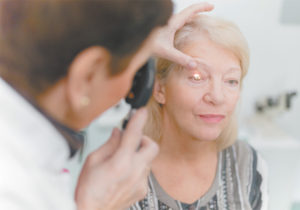 Most of us know that melanoma is the most dangerous form of skin cancer.  The reason we hear so much advice on wearing sunscreen, sunglasses, protective clothing, and avoiding over sun exposure between 10:00 am to 4 pm, is due in large part to the sun's harmful UV rays when the sun is the highest in the sky.  However, IT'S NOT JUST SKIN CANCER THAT YOU HAVE TO WORRY ABOUT because the sun's harmful UV rays can cause cancers to form in the eyes.
It's a rare diagnosis, but if your eyes are constantly exposed to UV radiation, your chances of getting melanoma in the eye are substantially increased.  Ocular melanoma tumor cases are uncommon, but about 2,000 new cases are diagnosed each year, and that number is on the rise here in Florida.  Living in the sunshine state, we need to be especially conscientious about preventing this form of cancer, due to our excessive exposure to the sun year round.
Protecting your eyes:
Sunglasses are the fashionable accessories that can indeed help to prevent melanoma from forming in the eyes.   Your eyes need protection from both UVA and UVB rays.
When choosing sunglasses, some cheap versions may actually increase your risk by easily allowing harmful rays to filter through.  It's essential to select frames that cover your eyes and the area surrounding your eyes, securely. If they don't fit your face correctly, then UV radiation can penetrate through the gaps and openings.
Sunglasses should have one or more of the
following options:
• 100% UV protection
• Polarized lenses
• Polycarbonate or Trivex lenses
• UV coated lenses
Ocular Melanoma (eye tumor/cancer):
Your eye is made up of three stratums, the outer, inner and middle layers.  The middle layer is where most melanomas form.  They typically occur in the uveal tract, which houses the iris, pupil, muscle fibers and layer of blood vessels that provide nutrients to reach the retina.  This layer of blood vessels is called the choroid and is where most intraocular melanomas are found.
During your regular dilated eye exam, an ophthalmologist can usually detect the tumors if they are present.  Some of the symptoms of ocular melanoma are a dark spot on the iris (color portioned eye), blurry vision, changes in the size of pupils or their shape, pain, redness, or consistent irritation.
If you or a loved one have any eye symptoms or are in need of your yearly eye exam, please schedule an appointment with an ophthalmologist immediately.  Problems with sight, such as macular degeneration, retinal disorders or melanoma need to be addressed and treated as soon as possible.  Although the treatment options for ocular melanoma are limited, if caught early on, a resection (removal) of the tumor is the standard of care.
Ocala Eye is the largest, most experienced eye care practice in North Central Florida. Since Ocala Eye was founded in 1971, more people from Marion and surrounding counties trust their eyes to the ophthalmologists there than any other eye care group.
Ocala Eye is a patient-centered practice, with all of the decisions made based on the patient's benefit and well-being. Their patients' satisfaction reflects this philosophy.  Ocala Eye has a passion for providing the highest level of complete eye care and aesthetic services.
Since Ocala Eye is the only truly comprehensive eye care practice in North Central Florida, patients no longer need to be referred out of town for their specialized eye care problems. Ocala Eye is the only ophthalmology practice in Marion County where you can be sure an eye surgeon is always on call, 24 hours a day, every day of the year.
To find out more, please call to schedule your appointment today at 352-622-5183.
Magnolia Office 1500 SE Magnolia Ext #106, Ocala
200 West Office 8520 S.W. State Road 200, Ocala
Paddock Park Office 3130 S.W. 32nd Ave., Ocala
Ocala Eye Surgery Center 3330 S.W. 33rd Rd., Ocala
Ocala Eye at The Villages 1950 Laurel Manor Drive, #250, The Villages