Written by Patricia Spitzer, PA-C – In collaboration with Dr. Thi Tran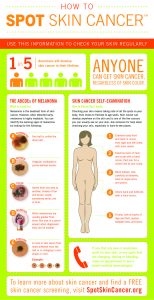 According to the American Academy of Dermatology 1 in 5 Americans will develop skin cancer in their lifetime.  Roughly 3 million Americans are affected each year and that number has consistently been on the rise. In fact, skin cancer is one of the leading causes of cancer in both male and females. May represents skin cancer awareness month with the first Monday in May being Melanoma awareness day.
The most effective way to combat skin cancer is early detection and prevention. It's important to see your Dermatologist yearly for an exam or sooner if deemed appropriate by the provider. It's also very important to use sunscreen on a daily basis as well as sun protective clothing.
Prevention And Detection:
• Make sunscreen part of your daily routine and choose one that is water resistant and broad spectrum (protects against both UVA/UVB rays) and please apply 30 minutes prior to sun exposure and again every 2 hours
• Seek shade during the hours of 10AM-2PM
• Avoid tanning booths
• Use cover up clothing including sunglasses, hats and sun protective clothing
• Check your skin monthly for new skin lesions
The American Academy of Dermatology has provided us with guidelines in reference to the treatment of skin cancer. The gold standard of treatment is still surgical management even with advancements in other treatment modalities. Radiation and topical therapy are considered inferior to surgical management and to be used in cases where individuals cannot tolerate surgery.
Surgical Management:
The type of surgery depends on the location, size and risk of the tumor itself.
• Moh's micrographic surgery is done on high risk tumors, certain areas of the body such as the face, scalp, neck, lower legs, hands and feet and large cancers.
• Surgical excision is done generally on the trunk and extremities
• Surgical destruction is typically not recommended due to cosmetic appearance and slower healing time except under the right circumstances and location
It's a big decision when determining how to treat skin cancers. We advise those to choose the modality with the highest cure rate unless there are other extenuating circumstances.
Thi T. Tran, DO | Patricia Spitzer, PA-C
352-751-6565 | www.villagederm.com
1950 Laurel Manor Drive
Building 220—Suite #224, The Villages, FL 32162