By Jason Waz, President of Competitive Edge Physical Therapy
The Physical Therapy Office of Tomorrow:
What You Need to Know…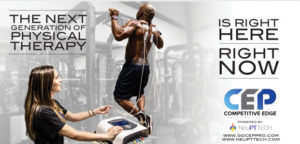 Competitive Edge Performance is not the normal run of the mill physical therapy practice. In fact, they are entrepreneurs, innovators and pioneers in the physical therapy market. Over the past two decades, the team at Competitive Edge Performance [CEP], has developed specialized techniques that have helped them gain industry-leading results with their patients. This success prompted them to perform countless trials and tests using emerging technology such as the NEUBIE, a proprietary, pulsed, direct-current, electrical stimulation device that has enabled them to achieve previously unseen outcomes in the fields of recovery science and human performance.
A New CEP Location
With their ongoing success in elite patient care and rehabilitation, CEP is opening a new location in South Tampa that will be centered around NeuPTtech-supported technologies and the Neubie device. CEP is truly the cutting-edge physical therapy office of tomorrow, utilizing innovative technology such as Neufit, iMRS (Pulsed Electromagnetic field therapy) and new state of the art equipment that will require less time spent in the physical therapy clinic and thereby maximize outcomes. They are currently working with PT clinics and professional sports organizations throughout the country to bring their concept to market, so that patients across the U.S. can benefit from their groundbreaking technology and methods.
This new location is perfectly placed in one of Tampa's premier markets. With close proximity to health clubs and boutique fitness studios built around a bustling neighborhood with some of the city's best shopping and dining, the CEP office location is in the heart of it all. And with their revolutionary concepts in the physical therapy specialty, they are pioneers in "outside-of-the-box" patient care that caters to the neighborhood's fitness-focused residents.
Groundbreaking Physical Therapy with NeuFit & NEUBIE
NeuFit is a company that developed the NEUBIE, which stands for NEURO-BIO-ELECTRIC STIMULATOR. It is an electrical stimulation device that accelerates the client's progress in fitness and injury
recovery. Contrary to popular belief, it is not your typical TENS unit. NEUBIE is unique in that it uses direct current rather than alternating current, so it doesn't lock up your muscle when using it at high intensities. By using NEUBIE to stimulate the neurological system, you're able to get a full muscle contraction while still maintaining functional movement patterns.
The NEUBIE has helped people of all ages get out of pain, improve performance, and live life at a higher level. The NEUBIE has also helped patients avoid surgeries and even get out of wheelchairs. This technology enhances natural processes; it doesn't replace them. The NEUBIE specifically identifies faults in the pain-signaling pathway, resets them, and then promotes normal movement patterns. Changing the "threat" inputs to the nervous system doesn't just mask the pain as traditional TENS therapy; instead, it corrects the underlying root of dysfunction. We use advanced technology to accelerate your body's internal processes. When given the right signals, your body heals itself from injury, builds muscle, and promotes good health.
Jason Waz, President of Competitive Edge Physical Therapy, states, "In more than 20 years in practice as a physical therapist, I can unequivocally state that I have never come across a technique or device that has a more profound effect on acute or chronic musculoskeletal pain as the NeuFit device. This is next-generation physical therapy at its finest. My mission is to introduce new technology to PT practices everywhere in order to improve outcomes well beyond the industry standard while providing a business model that will dramatically exceed the goals of the practitioner."
NEUBIE Benefits
• Injury Rehabilitation
• Reduce Pain
• Build Muscle
• Burn Fat
• Improve Performance
• Build Stamina
Competitive Edge Performance (CEP)
They believe in the "care" part of healthcare. And they also believe in establishing partnerships and relationships with their clients based on the merits of old-fashioned hard work, respect for their clients' time and through the results they strive to achieve with each person who trusts them to do their best to help them get better. To CEP, there is no greater reward than exceeding expectations.
NeuFit has redefined electric stimulation. By making the nervous system healthier, the NEUBIE is the next generation of total neurological fitness. If you are a patient or active individual that is interested in this cutting-edge device to help you heal and improve your muscle function, please call Competitive Edge Performance today at (813) 849-0150.
If you are a practitioner interested in adding NEUBIE to your office, contact the NeuFit distributor today to find out how it can increase your patient satisfaction by stimulating healing, therapeutic recovery, and overall increases in performance. Please email NeuPT Technologies at NeuPTTech@gmail.com or call (813) 849-0150.
Don't Rely on The Old Techniques of PT, Jump Into The Future With Competitive Edge Performance!
CEP – Competitive Edge Physical Therapy
813.849.0150 | neuPTtech.com
3105 W. Bay to Bay Blvd.
Tampa, 33629