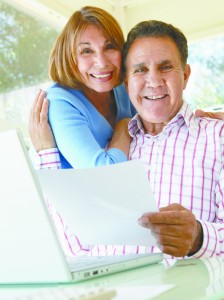 How financial caregiver services can simplify your life one bill at a time.
The challenge of organizing your financial life can be daunting. There is so much paperwork involved. You can easily lose receipts and forget when bills are due. The bank regularly notifies you about an overdrawn checking account. What is the best way to track your personal finances and get the clearest picture of how much money you have at a given time? The simple answer is to become more organized.  Unfortunately, often times organizing your personal finances is easier said than done. The answer to these challenges lies with financial caregivers – care providers who offer financial oversight services designed to relieve the burdens caused by personal finances.
There are several tools utilized by financial caregivers which can simplify your finances. First, assisting with the overwhelming amount of paperwork in your financial life. Most people are faced with countless bills, receipts, and notices. By taking steps to reduce your junk mail and consolidate accounts, you will reduce the amount of paperwork you deal with on a daily basis. A detailed look at your overall financial plan and various accounts can help you eliminate unnecessary credit cards or unused accounts which are cluttering your financial picture. Often times, people can function with just one bank account if they manage that account correctly. Similarly, using automatic transactions and other online payment options makes life simpler for individuals with complex financial lives. Although many people are hesitant to use technology when financial information is involved, using tools such as automated payments can ensure that bills are never paid late.
If you are behind on your bills, it can be tempting not to open them. It is important to fight the urge to ignore the bills and open them in a timely manner. By committing to deal with these bills at a regular time each month, you stay caught up on your finances and avoid costly procrastination. Managing your personal finances can be a significant time commitment; however, it is far more dangerous to allow the stack of unpaid bills to continue to grow without checking what needs to be paid.
Another important step in taking back control of your personal finances involves dedicating a specific space to your fmancial oversight. Keeping everything in one place makes it easy to find important documents, and also helps you monitor your financials for fraud or other fmancial scams.
Having a designated location for your fmancial information will help you deal with it in a more timely manner. The quicker you deal with pressing financial issues, the less likely you are to forget an important transaction or miss irregular activity. Keeping your fmancial documents located in one place prevents them from getting out of control. This organizational advice all sounds great, but how does one go about setting up such an efficient system? The best method involves enlisting a financial caregiver. At Family Wealth Guardians, clients receive personal financial caregiver services in the comfort of their own home or living facility. Our trusted caregivers help you set-up a secure home fmancial center. Using our personalized mailboxes, bills are handled in a timely manner and junk mail is disposed of properly.
A Family Wealth Guardians customized financial notebook stores up-to-date financial reports with detailed account monitoring. By tracking your expenses, Family Wealth Guardians makes sure your budget does not become stretched to a critical limit. You are given the option to provide a trusted family member or loved one with a copy of your financial notebook, so that they may also help
monitor your financials. Any essential usemames or passwords can also be stored in your customized notebook, so that information is always readily available in the event of an emergency. The notebooks also help organize all essential estate planning documents in a manner that is easy to transport and includes valuable copies for medical personnel. Finally, Family Wealth Guardians will
help you dispose of unneeded financial documents containing confidential information in a secure and private manner.
The Family Wealth Guardians team is confident we can help you implement these organizational strategies for your personal fmances and create a blend of financial stability and happiness. For many, dealing with your personal fmances, or handling those of a loved one, feels like an uphill battle. Don't fight that battle alone. Let Family Wealth Guardians take on the burden of managing your personal finances and give you back the control over your financial frusted Financial Oversight For You & Those You Love.
Family Wealth Guardians
3300 S.W. 34th Avenue – Suite 124A
Ocala, FL 344 7 4
352-443-1799
www.familywealthguardians.comlife