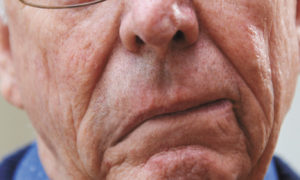 There are Several Different Types of Strokes:
• Hemorrhagic strokes occur when a damaged blood vessel begins to bleed then ruptures
• Ischemic strokes are formed by blood clots that obstruct a blood vessel that supplies blood to the brain
• Transient Ischemic Attack (TIA), also known as a mini-stroke, is caused by a temporary clot that blocks blood flow to part of the brain
Signs and Symptoms
Improving the original FAST acronym, BE FAST adds two additional stroke symptoms, which help individuals recognize 95 percent of acute strokes.
B – Balance loss
E – Eyesight changes
F – Face drooping
A – Arm weakness
S – Speech difficulty
T – Time to call 911
After an individual has suffered a stroke, it is imperative that they receive the proper ongoing rehabilitative care, typically under the supervision of a physiatrist.
What is a Physiatrist? Physical medicine and rehabilitation (PM&R) physicians, also known as physiatrists, treat a wide variety of medical conditions affecting the brain, spinal cord, nerves, bones, joints, ligaments, muscles, and tendons.1
PM&R physicians are medical doctors who have completed training in the specialty of physical medicine and rehabilitation and might be subspecialty certified in brain injury, neuromuscular medicine, pain management, pediatric rehabilitation, spinal cord injury medicine and/or sports medicine.
Robert Maiello, MD, is a board-certified physical medicine and rehabilitation specialist who treats patients with disabilities or muscle, bone, soft tissue or nervous system injuries to restore their function and quality of life. Dr. Maiello earned his medical degree and completed a physical medicine and rehabilitation residency at the State University of New York (SUNY), Health Science Center at Brooklyn.
He completed his internship in internal medicine at Maimonides Medical Center in Brooklyn and is certified by the American Board of Physical Medicine and Rehabilitation.
We caught up with Dr. Maiello to find out more about his specialty concerning stroke rehabilitation at The Villages® Regional Hospital.
Q: When a patient has experienced a stroke, and they have partial paralysis or have lost the ability to understand or express speech as a side effect of the condition, what is your role in patient care?
A: Our center is a unique rehabilitation setting in that out of all of the surrounding counties we are not a long-term, skilled nursing facility like the others. We are an inpatient physical medicine and rehabilitation center that specializes in many conditions, including stroke rehabilitation. Our goal is to get our patients out of bed, provide therapies that will make them stronger every day, and get them back to the comfort of their own home.
Our stroke admissions program always assesses neurological deficits because while the physical weakness may be apparent, the sensory deficit is usually not. Left hemisphere impairment causes language deficits, while right hemisphere deficits can cause visual and perceptual shortfalls. Both of these deficits severely interfere with patients' ability to perform daily tasks and activities. Some patients may walk into things; others may have difficulty understanding speech or speaking. Often swallowing is affected, and speech pathologists will need to assist in training the muscles to perform this very complex task.
We also assess the current brain function and determine what their cognitive function was prior to the stroke. Patient's thinking abilities have dramatic impacts on their therapy. Memory issues can cause patients to forget the therapy that they learned the day before, so in many cases, we're rehearsing the procedures and therapies on a daily basis, utilizing compensatory strategies to work around any deficits.
I strongly advise reversing or stopping impairments caused by stroke. In our society, we often overcompensate for our aging. For example, we buy a new house that's one floor instead of two, so that we no longer have to challenge our gluteal muscles. When in fact, keeping our gluteal muscles strong is usually enough to keep seniors active. In therapy, we work on having the patient sit and stand without using their hands to build up these muscles because we need this kind of strength and mobility to perform daily activities.
We also need to monitor and try to control high blood pressure, diabetes, peripheral neuropathy, balance issues, vision loss, and others issues that increase an individual's stroke risk. It's critical to come up with a plan that is personalized for each patient.
Q: What should post stroke patients expect as far as rehabilitative care and healing the brain and body?
A: When I started as a physiatrist 30-plus years ago, we didn't understand the in-depth ability that the brain has to alter and repair itself. However, we now know that the brain can significantly regenerate with dramatic results. However, the regeneration or circuit alteration usually occurs in response to the therapy intervention. The literature has expanded dramatically in the past 10 years with various therapy interventions attempting to facilitate rewiring.
If a patient comes to us with no use of fingers or their wrist, interventions will be more challenging than someone that has at least minimal use. The better the neurological capabilities, the less a person will have to compensate.
If a person has paralysis, we will try to work with their motor deficit. If they've had a small vessel stroke and sensation is intact, but their motor function is weak, they may be able to walk and use part of their arm at the onset, and we will tailor their therapy specifically to their needs.
Q: What's the most important advice you can offer a patient after they've had a stroke regarding ways to avoid a second stroke?
A: In Western civilization, stroke is the number one reason for disability. Avoiding a second stroke relates to why they had the first stroke. If they have atrial fibrillation, anticoagulant medications are superior to antiplatelet.
We need to make sure patients that have diabetes, high blood pressure and high cholesterol take medications to control these comorbidities and risk factors. I implement exercise plans, weight loss, dietary protocols, and lifestyle changes for patients.
It's my responsibility to educate them, their loved ones and to give them a customized treatment plan, but it's imperative that patients know that their risk of a second stroke will never go down to zero! Doing everything you can to stay as healthy as you can is critical.
Dr. Maiello has advanced training and experience in brain and spinal cord injuries as well as sports medicine.
Conditions Dr. Maiello Treats:
• Spinal cord injuries
• Traumatic brain injuries
• Stroke
• Concussions
• Chronic Pain Management
• Multiple Sclerosis
• Hip fracture
• Lower limb prosthetics
• Geriatric frailty
• Lymphedema
• Seizures and epilepsy
• Parkinson's Disease
• Osteoarthritis
• Osteoporosis
• Rheumatoid Arthritis
• Fibromyalegia
• Stress fractures
• Sacroiliac Joint Dysfunction
Stroke Center
The Villages® Regional Hospital offers 24-hour emergent diagnostic and treatment services to patients presenting with acute ischemic stroke and other neurovascular disorders.
For some patients suffering from an ischemic stroke (caused by a blood clot), tissue plasminogen activator (tPA) can be used to dissolve the blood clot and treat the stroke. Our team at The Villages® Regional Hospital is trained to administer this breakthrough treatment quickly and efficiently during such a critical time.
Stroke patients at The Villages® Regional Hospital have access to a unique multidisciplinary team of specialists and the Code Stroke system. The Code Stroke system was implemented to diagnose stroke prior to the patient's arrival in the emergency department. Within minutes, the hospital's response team is able to perform neurological exams, blood tests and CT scans.
If you or someone near you experiences any symptoms of stroke, call 911 immediately. Even if the symptoms seem minor, don't hesitate. Failure to call for emergency help can affect the chances for recovery or even survival.
Advanced Primary Stroke Center
The Villages® Regional Hospital has earned The Joint Commission's Gold Seal of Approval® and the American Heart Association/American Stroke Association's Heart-Check mark for Advanced Certification for Primary Stroke Centers. The Gold Seal of Approval® and the Heart-Check mark represent symbols of quality from their respective organizations.
The Villages® Regional Hospital underwent a rigorous on-site review in October of 2018. A team of experts from The Joint Commission evaluated compliance with stroke-related standards and requirements, including program management, the delivery of clinical care and performance improvement.
The Villages Regional Hospital
www.TheVillagesRegionalHospital.org
1451 El Camino Real, The Villages, FL 32159
References:
1. American Academy of Physical Medicine and Rehabilitation, "What is a Physiatrist?" https://www.aapmr.org/about-physiatry/about-physical-medicine-rehabilitation/what-is-physiatryRosemont, IL