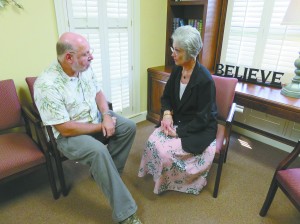 Loss can come at any time, any place and at any age. The pain of losing a loved one can affect one's mental and physical health for weeks, months or years. Because unresolved grief is an overlooked malady and seldom talked about openly, friends and family often do not know how to respond to those who are suffering. Now the new Monarch Center offers the community a secure place to confidently share their deepest feelings about loss. Guided by trained counselors and specialists, clients begin their journey toward healing. This unique offering to Marion County residents is provided at no charge.
Grief is Joy Remembered
The Monarch Center is the community leader in providing professional support to children and adults seeking stability after the death of a loved one. Visitors are greeted in a comfortable reception area; two large rooms are available for groups, presentations or workshops, while private sessions take place in two counseling rooms. The library is a quiet place of solace stocked with helpful resources for young and old.
Whether in groups or as individuals, counselors compassionately and expertly guide clients through the journey, giving time and comfort as they move through their grief. Hospice of Marion County families receive up to 13 months of services, while community clients may receive six to eight sessions and be referred for therapy if further treatment is required.
School System, Law Enforcement
and Local Industry
Due to the staff's networking with both the school district and senior awareness programs through the police department and sheriff's office, our counselors are well connected for referrals. College students are invited to assist in children's workshops. Resources such as sand trays, play therapy, animal-assisted therapy, media, music, dance and writing are helpful methods for guiding children in expressing grief.
Unexpected loss at the office or the long-term suffering of a coworker has a monumental impact on a business. Facilitators can help make the process less painful for management and employees alike through the Grief in the Workplace outreach program.
The Monarch Center's flexible hours accommodate evening and weekend programs.
Camp Mariposa
Since 2002, Hospice of Marion County's bereavement camp for children ages 5-12 has provided healthy guidance for any child in our community who has endured the death of a loved one. Children grieve very differently than adults. Our child specialists are well-
trained in working with youngsters, who are often confused, angry and frightened. Here at The Monarch Center, Camp Mariposa has a dedicated home where youngsters engage in activities such as:
• Hand- and face-painting to express feelings
• Handcrafting wooden butterflies for keepsakes
• Creation of "memory boxes" for families
• Outside games to release energy and tension
• Animal therapy that may consist of trained dogs or pony shows
Finally, the children write a letter to their loved one, which is read aloud to the audience of parents and peers. Camp ends with the magical Butterfly Release, an event that culminates the experience for all and offers hope for the future.
If you or someone you know could benefit from bereavement services, the warm and friendly professionals at the Monarch Center are waiting your call, (352) 873-7456. Visit www.monarchcenter-marion.com for details on programs and events. The Monarch Center is conveniently located at 3233 SW 33rd Road, Suite 201 in the Paddock Medical Park.
The Monarch Center
(352) 873-7456
www.monarchcenter-marion.com