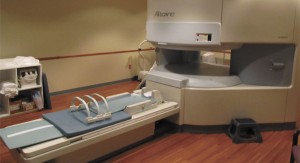 What is MRI?
Magnetic Resonance Imaging (MRI) is a noninvasive imaging test that uses a powerful magnet and radio frequency to process data and send it to a computer, which in turn creates high-quality images of interior views of the body. MRI's detailed views have allowed it to replace exploratory surgery in countless cases and save innumerable lives. MRA (Magnetic Resonance Angiography), a type of MRI, is used to examine blood vessels in key areas of the body.
What is it used for?
Although MRI was first introduced in the late 1970s, it has evolved considerably, being perfected over time and becoming one of the most widely-used technologies to help diagnose everything from cancer and strokes to torn ligaments and tendonitis. The images it creates allow RAO's experienced doctors to spot even tiny abnormalities practically anywhere in the body, head and extremities, including the spine and vascular system. Among its full line of the latest diagnostic tools, RAO features High Field MRI scanners and a High Performance Open MRI.
What is an Open MRI?
The introduction of the Open MRI scanner has been an advantage to both patients and doctors for multiple reasons. Unlike the high field construction of a traditional MRI scanner which has a narrow opening, an Open MRI contains a spacious, open design to eliminate patients' feeling cramped or isolated, making it especially helpful when imaging children, heavier individuals and those who tend to feel claustrophobic. Open MRI is more comfortable for the patient and helpful to doctors when they require specific patient positioning. At RAO, they offer High Performance Open MRI which benefits include higher resolution images, offering the ideal combination of quality and patient comfort. Other features offered by RAO include same-day appointments and 24-hour report turnaround.
How long does an MRI take?
The scan itself takes only minutes, but some cases require preparation before the exam. Depending on your case, you may be given contrast material to assist in imaging and/or you may be required to fast 8-12 hours beforehand. You will always be required to remove any metal objects you may be wearing, including glasses, jewelry, watches, removable dental work, etc. In most cases, an MRI appointment will take approximately 30-60 minutes from start to finish.
Which RAO location is right for me?
RAO offers MRI services at 3 locations. Which one is right for you will depend on the type of MRI ordered by your doctor and which site is most convenient for you. Each RAO location utilizes the expertise of our team of 17 Board Certified radiologists with specialized training in breast imaging, musculoskeletal radiology, nuclear medicine, neuroradiology and vascular and interventional radiology.
Medical Imaging Center
. High Field MRI
Medical Imaging Center at Windsor Oaks
. High Field MRI
TimberRidge Imaging Center
. High Performance Open MRI
Whichever center is right for you, RAO is committed to both your physical heath and emotional well-being. We vow to do our utmost to guide you through the process quickly and comfortably.
For the very best in MRI services, discover the difference at RAO.
Radiology Associates of Ocala – 352.671.4300