By Crystal Johnsen –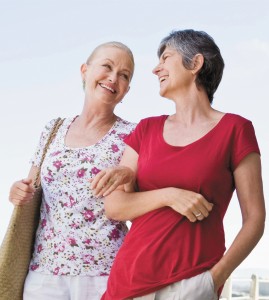 When living on your own is no longer your best option, fear of the unknown can get the best of you.  So take a deep breath because I have four myths about assisted living that are sure to ease some of your anxiety.
Myth 1
I am going to lose my independence.
Truth:  Assisted living communities encourage residents to continue doing as much as possible on their own while offering "assistance" when needed.  It may come as a surprise but most residents are happier and hold on to their independence longer than those living alone.  In most assisted living communities residents live in their own apartment with their own furniture, pictures, and any other belongings that are important to them.
Myth 2
I will not be able to continue doing the things I love.
Truth: Assisted living communities have evolved tremendously over the years.  They cater to their residents and aim to help them maintain a healthy active lifestyle.  Activities are a big part of what makes assisted living so special.  Take a look at the activity calendars available at each community you tour.  I think you will be quite impressed with the array of activities most communities offer.  You may even pick up a new hobby!
Myth 3
Medicare pays for assisted living.
Truth: Unfortunately Medicare does not offer financial assistance for assisted living.  However, I would recommend looking at the Department of Elder Affairs State of Florida website.  Here you will find information on qualification requirements for the ALE Waiver program.  Also if you or your spouse served in the military you may qualify for V.A. assistance.  This process may take several months so if you have the luxury of time it is wise to prepare early.
Myth 4
It will never be home.
Truth: Assisted living communities are far from the "nursing home" stereotype they have undeservingly received.  Once you start your search you will see that they offer comfortable apartments, home cooked meals, laundry service, and housekeeping.  This gives you time to enjoy doing the things you love such as visiting with family, making new friends, and participating in life enriching activities.
When you begin shopping for the perfect assisted living community go in with an open mind, take a tour of as many communities as you can, talk to the residents who live there, and don't be afraid to ask questions.  It is also a very good idea to ask the administrator for the most recent ACHA survey, this is public information and will allow you the opportunity to see any citations the community has received from the organization that regulates all of Florida's assisted living communities.  If you are anxious about this new chapter in life you are not alone.  However, if you just give it a chance I bet you will see that it can be a really good option.
Hampton Manor
(877) 530-3520
www.HamptonManor.net