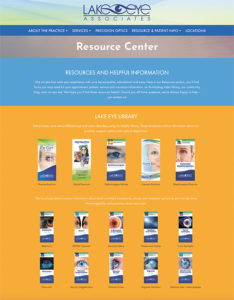 A little knowledge can go a long way toward helping you understand and take control of your eye health. That's why we feature the Lake Eye Library, your single destination for ready-to-read, downloadable brochures on a wide variety of topics, including the role of ophthalmologists and other eye care professionals, and the causes of and treatments for common problems such as dry eye, cataracts, glaucoma, eyelid disorders, floaters, flashes and many more.
Just below our brochures, you'll find our informative blog with even more illuminating content, including facts about our 5 Board-certified ophthalmologists, 2 doctors of optometry and 4 office locations, each with its own Precision Optics eyewear department for total convenience.
Scroll down a little further and you'll find our video library, which offers an array of brief but info-packed videos on everything from how to insert eye drops to cataract removal surgery to identifying eyelid disorders, plus treatment options for each.
So take a few minutes check out the Lake Eye Library. The material there can help you get to know our staff, learn how to take optimal care of your eyes, and reach a better understanding of options for clear, healthy vision. We continually update our library offerings, so bookmark the page and check back often. It's information worth seeing.
Lake Eye Associates
352-750-2020