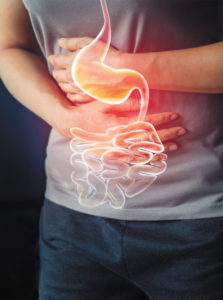 If you are like one of the millions of individuals in our country that suffers from chronic digestive disorders, it's critical to educate yourself on what might inflame or trigger your condition and also to learn about your treatment options. Those methods should also include, natural remedies.
When it comes to gut health and stomach issues, there are plenty of ways to relieve and alleviate various conditions naturally. Many spices and herbal remedies can be made into teas and used as direct, natural, efficient healing treatments for specific disorders, as many of these contain anti-
inflammatory, antifungal, antibacterial, antiviral and calming properties.
Ulcerative Colitis
According to the Crohns & Colitis Foundation, "Ulcerative colitis is a chronic disease of the large intestine, also known as the colon, in which the lining of the colon becomes inflamed and develops tiny open sores, or ulcers, that produce pus and mucous. The combination of inflammation and ulceration can cause abdominal discomfort and frequent emptying of the colon.
"Ulcerative colitis is the result of an abnormal response by your body's immune system. Normally, the cells and proteins that make up the immune system protect you from infection. In people with IBD, however, the immune system mistakes food, bacteria, and other materials in the intestine for foreign or invading substances. When this happens, the body sends white blood cells into the lining of the intestines, where they produce chronic inflammation and ulcerations."1
Wellness Teas for Colitis
. Cumin
. Fennel
. Oregano
. Thyme
. Turmeric
Constipation
Constipation effects the average person from time to time, but if you have chronic constipation or long periods of constipation and bouts of diarrhea, it's important to speak to your physician. Adding more fiber to your diet can be helpful. The following spices and herbs can help to keep your intestinal tract moving and functioning efficiently.
Wellness Teas for Constipation
. Aniseed
. Black pepper
. Caraway
. Cardamom
. Parsley
. Coriander
. Chai Tea
Crohn's Disease
The Crohn's & Colitis Foundation explains Crohn's disease this way, "Crohn's disease is a chronic inflammatory condition of the gastrointestinal tract. When reading about inflammatory bowel diseases, it is important to know that Crohn's disease is not the same thing as ulcerative colitis, another type of IBD. The symptoms of these two illnesses are quite similar, but the areas affected in the gastrointestinal tract (GI tract) are different.
"Crohn's most commonly affects the end of the small bowel (the ileum) and the beginning of the colon, but it may affect any part of the gastrointestinal (GI) tract, from the mouth to the anus. Ulcerative colitis is limited to the colon, also called the large intestine."2
Wellness Teas for Crohn's
. Coconut tea
. Coconut Thai Spice
. Island Sweet (a beautiful citrus blend)
IBS (Irritable Bowel Syndrome)
The International Foundation for Gastrointestinal disorders describes IBS in the following way, "Irritable bowel syndrome (IBS) is a disorder in which abdominal pain is associated with a range of symptoms. Typically, these include intermittent abdominal pain accompanied by diarrhea, constipation, or alternating episodes of both. Other symptoms may also be present. If you have chronic and recurrent abdominal pain and bowel problems, if your daily schedule is often ruled by intestinal discomfort, get help. Talk to your doctor."3
Wellness Teas for IBS
. Asafetida (Spice that mimics Garlic and onion)
. Mint
. Coriander
The Spice and Tea Exchange
The Spice & Tea Exchange® offers more than 140 spices, over 80 exclusive hand-mixed blends, 20+ naturally-flavored sugars, an array of salts from around the world, and more than 40 exotic teas. We focus on providing high quality products and accessories to home cooks, chefs, and tea lovers in an old-world spice traders' atmosphere.
352-633-4780
www.spiceandtea.com
3638 Kiessel Road, The Villages, FL 32163
Hours: Monday – Saturday, 10:00 am – 9:00 pm
Sunday, 12:00pm – 5:00pm