Anytime Fitness –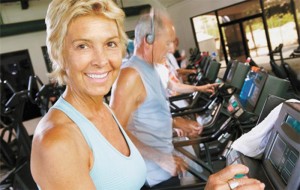 We are all aware that a woman's body varies greatly from her male counterpart. Those differences also mean that, by nature, exercises for women must be different than exercises for men. A woman's body has an entirely different orientation than a man's body. The center of balance is lower, the sense of balance is different and the way women walk, sit and stand are all different because of the entirely different shape each gender is supporting. And as such, the exercises for women are also different.
Exercises for women must, for example, provide support for the bust line. This means that strength training that focuses on the upper back, the shoulders and the biceps will go a long way toward providing support in adult life when the bust will create an ongoing gravitational pull on the front of your body, particularly if you are well endowed in that area.
Men tend to use weight training more than women, no doubt because they enjoy "bulking up" in the chest and arm muscle groups in particular. Women typically use weight training for other reasons. It is generally important for a woman's workouts to focus on muscle tone and improving strength and performance of abdominal muscles. Focusing on the abdominal muscles will counter the natural loss of tone in that area most women experience as they age.
One big physical event that women must prepare for that will never be a concern for a man's exercise program is pregnancy. As much as we would like to pass this duty over to the men in our life, women are built for this important task. But women must also support the muscle groups particularly of the abdominal and back muscles as they prepare for and go through pregnancy to assure that the entire process is given the best possible physical support you can give it.
Women also age differently than men. This is also not a big breakthrough to learn but how to cope with it should be an area of thought and preparation so you can sail through menopause and aging with fewer problems. Good diet and exercise habits will keep you fit much longer while postponing muscle and bone deterioration and other chronic physical problems many aging women endure.
The time to prepare for these big changes in your life is not when they are upon you but early in life. If you can put a regular and well rounded program of physical exercise and health conscious diet into effect in your daily routine early in your adult life, it will pay big dividends through every stage of life. You will live a healthier, happier and more productive life of a wife, mother and even grandma if you implement a health conscious lifestyle now and keep it going through all the changes up ahead.
Ladies, your bodies are special and thus deserve special attention and exercises. If you need help in learning exercise techniques that work your muscles properly, the friendly and knowledgable staff at Anytime Fitness are available to provide suggestions and ensure you get the most out of your workouts! Don't waste your time completing a workout that doesn't benefit your body, stop in today to learn more about exercises that are designed just for you!
ANYTIME FITNESS
10700 US Hwy 441, Suites 106, 107 & 108
Leesburg, FL 34748
352-742-2008
16770 South hwy 441, Summerfield Fl 34491
352-307-0700
2221 West County Rd 48, Bushnell, FL 33513
352-569-1015