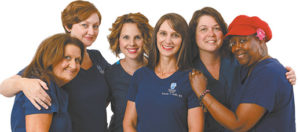 The Early Detection League of RAO's Women's Imaging Center (WIC) is composed of a group of caring and driven professionals dedicated to early breast cancer discovery and compassionate guidance.
Breast cancer continues to strike 1 in 8 American women, but death rates have dropped 39% in the past few decades, due largely to advances in diagnostic testing. "Great strides have been made in both early discovery and survival," says WIC Medical Director and breast imaging subspecialist Dr. Amanda Aulls. "With advances like 3D mammography, we're able to discover breast cancer earlier and more accurately than ever before."
3D mammography™ exams are the standard of care at WIC, replacing less effective screening technologies. "My breast cancer was caught early with 3D mammography," says RAO MRI technologist Michele Barkley. "If I had chosen standard mammography over 3D mammography, it's possible my cancer would have been missed."
Another RAO employee, Yvonne Seymor-Palmer, is also a breast cancer survivor. "Getting that diagnosis was frightening, sure, but I felt grateful to be here among trusted friends with outstanding credentials. They helped get me through it, so I can say firsthand that the WIC team is unbeatable."
RAO's commitment to superior modalities, including breast MRI and same-day biopsy, combined with its team of subspecializing radiologists make WIC the region's only full-service women's diagnostic center. All imaging results are read in-house by Board Certified radiologists who live in the area and
are devoted to the community, and WIC's team of women enhances the climate of security and understanding. "It feels good to have women doctors on staff who can relate personally" says RAO physician liaison Amanda Smith.
In that vein, WIC welcomes its newest radiologist, Dr. Janet Ter Louw, who subspecializes in breast imaging. "Fellowship training gives patients a tremendous advantage," says Dr. Ter Louw, "because it promotes exceptional accuracy."
RAO's superior technologies aren't limited to WIC. "As the manager of RAO's TimberRidge Imaging Center, I make it a mission to acquire the most advanced technologies and procedures," says Kathy Gillman. "And I methodically review our standards and practices to foster an unparalleled level of patient care," adds RAO's operations coordinator, Carrie Law. "This is the team of people I'd trust with my own care, or that of a loved one. You can't get a higher recommendation than that."
(Pictured left to right: Kathy Gillman – Manager of TimberRidge Imaging Center; Carrie Law – Operations Coordinator; Amanda Smith – Physician Liaison; Amanda Aulls, MD – Medical Director of Women's Imaging Services; Michele Barkley – MRI Technologist, Breast Cancer Survivor; Yvonne Seymor-Palmer – Scheduler, Breast Cancer Survivor)
RADIOLOGY ASSOCIATES OF OCALA
(352) 671-4300
www.RAOcala.com