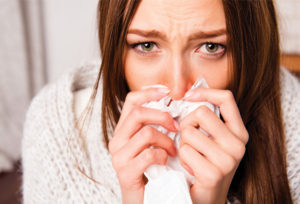 According to the CDC, last year, Florida was one of the states with the highest records of influenza outbreaks, causing unprecedented amounts of hospitalizations and deaths. This year, we're uncertain of how threatening the flu season may prove to be, but we do know that the flu will affect all ages. Taking precautions is essential. Young children, individuals with weakened immune systems, and adults 65 and over are more susceptible to the dangers of the flu, as their symptoms can quickly exacerbate into pneumonia or other disease states. As the immune system becomes weaker, the ability to fight off viruses and bacteria becomes more difficult and problematic. Although the flu can affect any age, many seniors are left much more vulnerable to the complications of respiratory infections, than healthy, younger adults, and they may require much more assistance to regain their health. This is one of the reasons why the flu vaccination is critical for staving off the flu or for shortening its duration.
How The Flu Vaccine Works
Researchers develop the seasonal flu shot dependent on which virus are thought to be the most common during that particular season. When the flu vaccine is administered, antibodies begin to develop to protect against the microorganisms within the vaccine. It typically takes about two weeks for these antibodies to advance, so keeping yourself healthy is still incredibly important during and after your flu shot.
Fatigue, body aches, chills, fever, headaches, and upper respiratory infections are common symptoms of the flu. Coughing is a significant symptom of the flu. However, coughing is actually a natural bodily reaction to excess buildup in the respiratory tract, meaning that your body is trying to clear itself of phlegm and other materials. Regrettably, this excess of fluid makes individuals more susceptible and at higher risk of developing pneumonia. Pneumonia is the fourth leading cause of death in the U.S. among the elderly. For this age group, there is a high dose vaccine that is recommended. This high dose vaccine is ideal for the elderly population because it contains three different flu strains, which makes warding off the flu virus, much easier. It also provides more antigens, than a standard flu shot, which is what creates the antibodies that fight the flu virus.
Flu Prevention
It's essential to plan ahead, as there are ways to prevent the flu. Getting the flu shot is the first step, washing your hands, wiping down door handles and counter tops, avoiding large crowds if possible, getting adequate rest, and taking vitamins and supplements that boost your immune system all are effective ways to inhibit the virus.
If you or a loved one haven't been vaccinated and become infected with the virus, there are antiviral medications that help limit the length and severity of the flu, but it has limited effects, especially for seniors. It's important to rest and drink plenty of fluids if you've been exposed to the virus, as there are additional risks associated with the flu, like pneumonia, bronchitis, sinus infections, ear infections, extreme fatigue, and myocarditis.
Myocarditis is a dangerous condition, which affects the heart and can lead to sudden death, even in young people. Although it is uncommon, it is usually brought on by viral infections or immune system responses due to an autoimmune disorder. In the case of the flu, myocarditis can weaken the heart; lead to heart failure, and even cause death. There is no prevention or cure for myocarditis. If the situation is severe, specific procedures can prevent further heart damage and its progression, but again, it's critical to stay healthy and avoid getting the flu or other viral infections.
Be Proactive
• Get vaccinated
• If you're over 65, ask about the high dose flu vaccine option
• Practice thorough hand-washing often
• Cover your cough with your sleeve or a tissue
• Avoid people who are sick
• Get additional help for the elderly loved one in your life
Medicare and most insurances cover the flu vaccine at low, to no cost. In addition, some local pharmacies offer incentives if you choose to get the shot at community locations.
Your Best You, P.A.
Your Best You's goal is to assist every patient in achieving and maintaining their best state of health possible by providing compassionate, collaborative, and comprehensive care so that every person leaves better than they arrived.
Your Best You, P.A., is a primary care and diabetes specialty practice focused on delivering unique and personalized health management services to the community. Primary care, diabetes care, and chronic disease management are their specialties. Their patients are appreciated as the expert of their life story, and Your Best You aims to assist with health-related goal setting to the best of their capacity. Their team designs treatment, management, and education plans that are based on the most current standard of care to optimize the potential and goal attainment for every patient.
To make an appointment, please call Your Best You today at (813) 936-2609.
Your Best You
15511 North Florida Avenue
Suite 502 – Tampa, FL 33613
813-936-2609
www.ybyclinic.com