PinPointe® FootLaserTM is the only FDA-approved laser treatment for toenail fungus.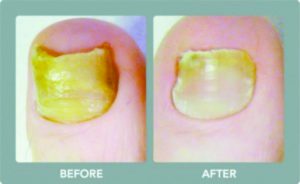 Stop suffering the pain and embarrassment of unsightly nail fungus. PinPointe FootLaser is the easy and convenient procedure that helps turn your discolored and disfigured nails into clearer, healthier looking nails.
Nail fungus can be both unattractive to look at, as well as painful to deal with. Our PinPointe laser treatment is a procedure that can make your discolored or disfigured toenails cleaner and healthier.
This in-office procedure is virtually painless, has minimal side effects, and typically takes only about 30-minutes to complete.
With this procedure, Dr. Bidelspach uses a laser that targets fungus living in and under the nail. The laser passes through the nail without causing any damage to it or to any of the surrounding skin. While the nail may not become clear instantaneously, results can be apparent after the nail has grown out.
Nail fungus is difficult because the infection is under and inside of the nail, which makes it hard for some products to reach and destroy the infection. Products such as medicated nail polish or oral medications may be associated with side effects or serious drug interactions. Home remedies such as using bleach, vinegar, mouthwash, or household cleaners to resolve the problem are often tried but, ultimately, fail to resolve it.
Why should I use PinPointe?
Not only is nail fungus unpleasant to look at, but it can also lead to serious health problems for patients with diabetes or immune disorders. PinPointe treats the source of the fungus under and inside the nail—an area where many other products cannot reach.
PinPointe laser treatment is:
• Painless: This treatment is a virtually pain-free experience for most patients.
• Side Effect-Free: Any side effects from PinPointe are extremely minimal.
• Effective: PinPointe can reach fungus in areas where other products can't.
• Fast: Treatments typically take only around 30 minutes to complete.
Dr. John Bidelspach
Dr. B graduated from the Ohio College of Podiatric Medicine in 1990. He completed his residency in California at the Loma Linda Foot Clinic. He is licensed in both Florida & Georgia and has been in private practice since he moved to Florida in 1993.
Dr. B will be utilizing the same business model of the NLFC's practice and incorporating his own style as well. The practice will be renamed to "Coast2Coast Podiatry Group". Together the two of them have 50 years of Podiatry experience.
Coast 2 Coast Podiatry Group
The Villages Main Office: (Just West of Rolling Acres)
Heart Rhythm Associates, 781 HWY 466
Lady Lake, FL 32159
(888) 505-0592
www.coast2coastpodiatrygroup.com