The Difference Matters
By Davis Family Hearing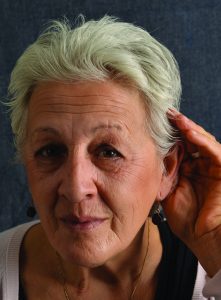 An audiologist is a specialist in hearing and balance.  They have studied for many years and are required to have a doctorate degree in the field of hearing.  While they do not perform ear surgery, they are experts in diagnosing and finding solutions for children and adults that are experiencing hearing loss.
A hearing aid specialist is not required to have a degree, although many of them may have a degree in another field.  They do need to take a certification course, which is usually a few months long.  They are not experts in the area of hearing, but they are trained to sell  hearing aid devices for you.  If you need hearing aids, it's always best to see an audiologist first, especially if you haven't had your hearing tested in a while, as hearing level loss changes can occur fairly quickly.
Why you should see an Audiologist
If you are experiencing hearing loss, it's important to seek a qualified audiologist, because they are trained to get you the best outcome and resolution for your specific issue.  If you've noticed that it's difficult to hear conversations in a noisy atmosphere, or you feel the need to adjust your television volume much higher than before, it's vital for you to have your hearing checked.
Perhaps you or your loved one keeps asking for people to repeat themselves, or you can't quite pick up where sounds are coming from; if this is the case, don't wait until your hearing loss gets any worse.  Schedule your appointment as soon as you possibly can.  From children to adults, Davis Family Hearing has a reputation that the community respects and trusts. That's why their motto is: "Our Doctors Make the Difference."
At Davis Family Hearing, their team of experienced, board-certified audiologists and caring staff are unwavering in their commitment to helping West Central Florida patients of all ages hear the world around them clearly, easily and with confidence.
At Davis Family Hearing, they offer a comprehensive suite of hearing services that will not only improve your hearing but your quality of life as well.
Services
• Free initial hearing evaluations
• Hearing aid fittings
• Extended wear hearing aid fittings
• Tinnitus treatments (ringing in the ears)
• Ear wax removal
• Cochlear Implant Evaluations
• Cochlear Implant initial stimulation and follow up mapping
• Bone anchored hearing aid fittings
• Assistive hearing technology other than hearing aids
• Balance assessment
• And much more
Whether you already own hearing aids and simply need to have them repaired or you need complete hearing health care, you can rest easy knowing your ability to hear the people and the sounds of the world around you is in good hands. Schedule an initial consultation, so that the audiologists at Davis Family Hearing can explain all of your options.
Davis Family Hearing offers a comprehensive array of innovative hearing treatments, products, and services tailored to meet each patient's unique hearing needs, lifestyle and budget. When it comes to something as serious and personal as your hearing, it's imperative to find an audiology team you fully trust and feel comfortable around.
After your first visit to one of their welcoming offices, you will see firsthand why Davis Family Hearing is the full-service hearing health care provider of choice for your friends, family members, and neighbors.  Their compassionate staff understands the fear and anxiety that accompanies your lost or diminished ability to hear clearly, which is why they've dedicated their lives and careers to ensuring you never have to go through it alone or without effective solutions.
To schedule an appointment at one of their three convenient locations in Spring Hill, Weeki Wachee, or New Port Richey, please call them at (352) 666-8910, or contact them by email at DavisFamilyHearing@gmail.com.  You can also complete the form on their "Contact Us" page at www.davisfamilyhearing.com and they will respond within 24 hours.
Let Davis Family Hearing help you enjoy  hearing again.
Highway 19 Office
5119 Commercial Way
Weeki Wachee, FL 34606
(352) 666-8910
Spring Hill Office
13101 Spring Hill Drive
Spring Hill, FL 34609
(352) 666-8911
New Port Richey Office
11325 Little Road
New Port Richey, FL 34654
(727) 375-8111