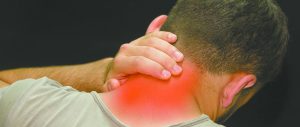 There are many different forms of arthritis; osteoarthritis (OA) is the most common type.   Osteoarthritis is an inflammation of the joints due to excessive wear and tear of the cartilage that works as a buffer between the joints and bone. Several of the most widespread arthritic symptoms are joint pain, stiffness, warmth, immobilization, and loss of range of motion, fatigue and inadequate blood flow.
When osteoarthritis affects the neck, difficulties arise when trying to get through even the most menial daily tasks.  OA in the neck can cause excruciating pain that leaves individuals uncomfortable whether standing, sitting and lying down. The surrounding muscles in the shoulders and back may begin to tighten as they try to overcompensate for the pain and protect the injured neck area.  These tight muscles can create tension headaches and impinged range of motion.  Most people may find that there is little to no relief with over the counter NSAID's like ibuprofen.
Because OA is chronic, it is best to seek medical attention early on, to avoid long-term consequences that may require surgery.  Your physician will diagnose your OA through X-rays or an MRI and discuss the next steps with you in your treatment plan, depending on the severity of the osteoarthritis.
Osteoarthritis of the Neck—Treatment Options
• Maintain a healthy weight
• Stretching exercises
• Moderate physical activity to keep you moving
• Pain medications
• Acupuncture
• Physical therapy
• Massage
• Laser therapy
Daryoush Payman, M.D.
Dr. Daryoush "Darius" Sabet-Payman has been treating patients with acute and chronic low pain back pain for over 17 years.
Dr. Payman performed his residency training at The George Washington University in Washington D.C. After graduating from
Dr. Payman performed his residency training at The George Washington University in Washington D.C. After graduating from the George Washington University, Dr. Payman Scored in the Top One Percent in the nation on the American Board of Anesthesiology Board Exam. During the following years, he spent his time helping patients return to their lives, pain-free, and happy, by utilizing the most state of the art interventional techniques.
Dr. Payman shares the philosophy of trying to achieve results by identifying the cause of low back pain, neck pain, and arthritis of the joints. He then plans an interventional approach unique to each individual patient tailored to addressing the source of the lower back pain. He specializes in Anesthesiology and Interventional Pain Management, where a solution to the problem is approached with procedures to tackle the root of the pain, not just to mask the symptoms with narcotics.
Spine Intervention Specialists, P.A.
(352) 391-1750
201 W Guava St #202, Lady Lake, FL 32159