By Alex Anderson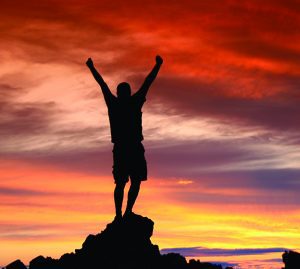 There is a danger in pursuing your passion… it assumes that you can only have one. This drove me nuts in a reversed kind of way.
I knew what my passion or calling was…to be a minister. The only problem was…so was being an entrepreneur, musician, writer, father and husband.
The pressure to excel and become the 'best' has always been there.
As a child my dad would say to me, "Son, I cannot tell you what to do with your life (your calling or passion), that's between you and God, but what I do want you to do is to promise me that you will be the best you can be at whatever you choose."
I love my dad and want to honor him, right? Make him proud of me.
So now I have to hear from God about my calling or passion… and keep my promise to my dad to be the best at whatever this passion is.
It's like I having to pick a major in college…but for the rest of my life. How intimidating. Our culture has this compelling imperative to find the 'one' thing and die there.
The advantage of being fifty-five and able to look back has helped me adjust my thinking and life-style without disappointing God or my dad.
Passion is a feeling and not a plan. Feelings can change over time or even in a moment. At any given time we can be passionate about a person, place or thing and then change when we find a newer, shinier, person, place or thing.
So I believe pursing your passion, or ultimate calling, is dangerous. I believe this because it can cause you to stay in a perpetual state of pursuit of something you may never find.
I mean face it…when you are pursuing that one ultimate passion ….you will most likely not try some things because you are afraid to risk the chance of getting on the wrong bus of life and winding up in the wrong  place one day…feeling stuck.
You don't find your passion first then live your life… you find your passion as you live your life.
All you need to live your life and find your passion along the way is a reason to get up every morning and take a shower and go and engage others in a way that adds value to their life, and then get a paycheck for it. It really is that simple. And there's a sneaky code word for this amazing, revelatory process.
It's called a job.
I know it makes some people throw up in their mouth to say that word. But it's true. When we get up, take a shower and go someplace and create value for someone else…it starts a waterfall of positive affects in our lives. It is truly amazing what can happen when we can get over ourselves and take the humble position of serving others.
When we open ourselves up to the possibility of serving others by adding value to their lives…all sorts of creativity starts flowing and if we are not careful we may find ourselves actually having fun…at our job. Imagine that! And the more fun you have creating value while serving others, the more successful you become.
The key is to start right where you are with the job you have. Make each day your masterpiece with the part that you have control over. As for the parts you don't have control over, ask God to help, and if you expect Him to, He will.
I love this promise in the Bible because it gives me great peace and comfort that God has my back when I don't have a clue as to what to do next.
Trust in the Lord with all your heart;
do not depend on your own understanding.
Seek his will in all you do,
and He will show you which path to take.
Proverbs 3:5-6NLT
Rarely have I seen an individual's passion fuel success. Most of the time success fuels your passion.
This is why some years ago I decided that…Success is the progressive realization of a life-giving goal and not the goal itself. The goal maybe obtained or even changed over time. But the day in, day out pursuit is where the real fun is.
I was talking to Dr. Mark Rutland, a former president of Oral Roberts University, and he said that he once thought that great ideas or new passions were the building blocks of success, but after four decades of being in very successful leadership, he said that the daily follow-through on a goal was the real stuff of success.
The good news is that God uses everyday life to confirm your calling or passion. If you are too focused on only one thing you may miss the thing that really rings your bell.  This is not only true for your life's work and contribution to the world…but for love, friends and happiness.
So don't pursue your passion…let it pursue you!
To your spiritual health,
Alex E. Anderson
Senior Associate Pastor at
Bayside Community Church
Author, Dangerous Prayers
alex.anderson@alexanderson.org
www.dangerous-prayers.com | mybayside.church
To read other life-giving articles by Pastor Alex, go to http://belifegiving.blogspot.com/