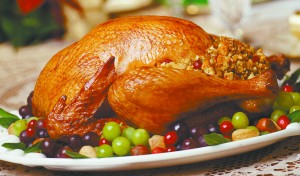 During the holidays, many of us look forward to parties and gatherings with our loved ones. Unfortunately, all those seasonal treats can make for tighter waistbands and added pounds. Let our tips guide you into a healthier, more energetic holiday season.
Don't show up to gatherings with an
empty stomach:
If you're going to a holiday party where lots of food will be served, be sure not to walk through the front door with an empty stomach, according to the Academy of Nutrition & Dietetics. Help yourself to a small meal or snack before you leave so your hunger doesn't lead you to overeat.
Fill half your plate with fruits and vegetables:
Moderation is often easier said than done. A quick trick to moderate your intake while still enjoying those special annual treats is to fill half of your plate with fruits and vegetables. Enjoy in-season fruits and vegetables as well, such as sweet potatoes, pomegranates, oranges and kale.
Be careful with the salt shaker:
A little sodium goes a long way, and salt intake should be carefully monitored. Choose fresh fruits and vegetables over canned foods, which may contain more sodium. The US Food and Drug Administration recommend getting into the habit of flavoring foods with herbs and spices, instead of salt.
Be mindful of liquid calories:
Alcoholic beverages are high in calories and leave you feeling hungry. Alternate every alcoholic beverage you drink with a glass of water. This will keep your thirst quenched, your stomach full and temptations away.
Make simple substitutions when baking:
The holidays are no time to deny your sweet tooth. When choosing your baking ingredients, substitute butter with applesauce to reduce the fat content. Use whole-wheat flour to increase fiber intake. Consider low-fat or skim milk when the recipe calls for heavy creams to reduce calories as well. In addition, take the opportunity to add fruits to your diet by substituting dried cranberries or cherries for chocolate chips, according to the American Heart Association.
Integrate physical activity:
Physical activity doesn't have to mean hitting the gym. Make being active a family affair. Instead of driving to see the neighborhood decorations, take a brisk walk with the family. Find the parking spot furthest away from the mall entrance when getting your holiday shopping done. Take the stairs whenever possible.
Do you have questions about staying heart healthy during the holidays? For more tips or to address any concerns about your heart health, call Dr. Vallabhan at 352-750-2040 today!
Dr. Vallabhan
352-750-2040
It's your heart.
It should be
personal.
And that's how I treat it.
When you come to see me… that's exactly who you will see. I will know your name, how many children you have, what foods you love to eat and how much sleep you get each night. I will take your health personally. That is why I am the only doctor you will see when you come to my office. I will take time with you and get to know you personally. No patient of mine will ever have to see an associate or undergo needless testing. I will know which tests are needed and which aren't. I will watch over you and treat you as I want to be treated when, one day, I am the patient and not the doctor. And that is my promise to you.
Rolling Oaks Professional Park
929 N. US Highway 441, Suite 201
Lady Lake, FL 32159