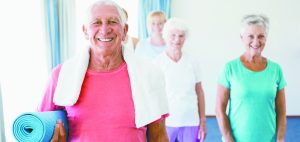 By this time of the year, many of us are struggling to keep New Year's resolutions, especially those dealing with adopting a healthier lifestyle. National Cancer Prevention Month, is a good time to recommit to goals of making and maintaining lifestyle changes that can lead to a longer, healthier life.
According to the American Institute for Cancer Research, approximately one-third of all cases of the most commonly diagnosed cancers in the U.S. could be prevented by embracing some simple lifestyle changes―that correlates to roughly 374,000 cases of cancer that could be avoided.
"People can greatly reduce their cancer risk by adopting a healthy lifestyle as early as possible in life," said Dr. David Catalano, medical director and radiation oncologist at InterCommunity Cancer Center in Lady Lake, Florida. "Not only do positive habits reduce cancer risk, they also help decrease the chances of getting many other serious health conditions, such as heart disease, high blood pressure, diabetes and other chronic diseases that can shorten lifespan and reduce quality of life."
Simple ways to reduce your cancer risk
Here are a few basic things you can do to put you on the right path to decrease the risk of cancer:
. Don't use any tobacco product
Smoking has been linked to many different types of cancer, including lung, mouth, throat, larynx, pancreas, bladder, cervix and kidney. Chewing tobacco is equally dangerous. Exposure to secondhand smoke should also be avoided.
. Maintain a healthy weight
This is probably the toughest item on the list, as many carry additional weight that is extremely difficult to lose and even harder to keep off. However, staying at the proper weight is one of the most important things a person can do to lower the risk of cancer, as obesity is strongly linked to many different cancers.
. Eat a healthy diet
Try to adopt a diet rich in vegetables, fruits, whole grains and legumes. Limit processed meats and red meats. The Mediterranean Diet is a great plan to help learn new, healthy eating habits, as it focuses heavily on plant-based foods.
. Limit alcohol consumption
Cancer risk increases with the amount of alcohol consumed and the length of time the person has been drinking. Moderation is best.
. Get regular physical activity
Get a minimum of 30 minutes of activity a day for at least five days a week; the more, the better. Regular activity helps regulate hormones that are linked to increased cancer risk and also helps fight obesity.
. Avoid too much sun exposure
Stay in the shade during the hottest part of the day when UV rays are strongest. Avoid laying in the sun or using tanning beds. Use sunscreen every day with a sun protection factor (SPF) of 15 or higher, even on cloudy days. Protective clothing should still be worn, even if sunscreen is used. Tightly woven fabrics in dark colors offer the best protection. Wear a wide-brimmed hat and sunglasses to protect the head and eyes.
. Get regular physical exams and cancer screenings
Many different cancers, including skin, colon, cervix and breast, have very effective screening procedures that can detect cancer early when treatment is most effective. Get regular physical exams and talk to your doctor about the best screening schedule that takes into account your individual risk for various cancers.
"National Cancer Prevention Month is a great time for all of us to jump start our commitment to leading a healthier lifestyle," said Dr. Catalano. "I urge everyone to be proactive about their health. Just by taking small steps every day, great progress can be made."
ABOUT INTERCOMMUNITY
CANCER CENTER
InterCommunity Cancer Center (ICCC) has more than 30 years of experience providing quality, personalized cancer care in the Lady Lake and Leesburg communities and has treated more than 10,000 patients. Medical director and radiation oncologist Dr. David J. Catalano has expertise in treating breast, lung, prostate, gynecologic, skin and other cancers. ICCC is part of The US Oncology Network, which is supported by McKesson Specialty Health and is a physician-led network of integrated, community-based oncology practices. This affiliation provides patients and practices a best-in-class platform and a robust suite of customizable offerings and services, including comprehensive oncology management services across radiation oncology, surgical specialties and medical oncology while focusing on community-based oncology care and innovative value-based cancer services. ICCC has access to clinical information and best practices from the treatment of more than 800,000 patients annually, enabling highly effective, peer-
collaborated care empowering ICCC to offer academic-quality treatment in a community-based setting, providing exceptional cancer care close to home.
To learn more visit LadyLakeCancerCenter.com