Robert Martinez, DC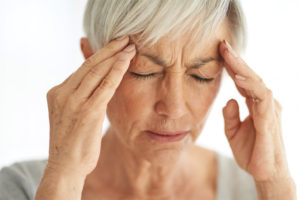 38 million people in the U.S. suffer from migraines. The debilitating pain, nausea, environmental sensitivities, and general ailments affect more women than men. For the vast majority of people that suffer from headaches and migraines taking an over-the-counter pain reliever sometimes does the trick, but often those medications are ineffective. Some stronger medications and injections work to mask the symptoms of the aching, but there is a better way to treat the cause of migraines and not just the side effects.
Have you noticed that you're headaches are more frequent than they used to be? Along with tension, tightness and the throbbing sensations associated with a headache, your spinal alignment may be exacerbating your symptoms and recurrence levels.
The spine is made up of wedges of vertebral bone consisting of sacral, lumbar, thoracic and cervical vertebrae, as well as, vertebral discs, ligaments, tendons and muscles that attach to the spine. Over 30 nerves run down the entire spinal column. When our spine is injured or misaligned, the surrounding muscles in our necks often contract, as they tighten to try and protect the spine. This compression causes severe headaches and while taking ibuprofen may work short-term by masking your pain, until your spine is aligned and your nerves are decompressed, you're headaches will keep coming back.
A chiropractor uses imaging to view the cervical spine (neck) and the position of the vertebrae. When these vertebrae are misaligned the muscles of the head and neck are pulled, and the nerves from the brain stem are strained resulting in dural inflammation and tension. The inflammation causes migraines. Re-alignment of the cervical spine provides accurate positioning and relieves stress in the surrounding nerves and muscles. This results-driven solution realignment is known as spinal decompression and doesn't require any drugs or surgery. Spinal realignment and decompression provide favorable results in relieving migraine and vertebral pain. For many years chiropractors and physical therapists, have been utilizing this natural therapy for their patients.
When you have suffered from migraine headaches, Dr. Martinez can help put you on the road to recovery. At their facility, they offer a variety of care services for patients throughout the area. No matter what type of condition you are suffering from, the experienced team of professional chiropractors will work with you to develop a personalized treatment plan. They make sure your needs are always their number one priority.
Stop masking your symptoms with pain relievers and get to the root cause of your pain today. Functional medicine calls on treatments that focus on optimal functioning of the body and its organs, usually using holistic or alternative approaches.
Dr. Robert Martinez
Dr. Robert Martinez provides functional medicine. He works with his patients to get their digestive system in peak form. With the proper diagnostic testing and evaluation, he works out a dietary and supplement plan that fits their budget and lifestyle, along with a comprehensive therapeutic algorithm. He also implements multifocal functional and alternative therapies that are medically recognized to improve his patient's overall health.
To tailor your individualized plan to better overall health and to ward off diseases and disorders, please call Health and Wellness of Central Florida to schedule a personal consultation with Dr. Martinez.
Health and Wellness of Central Florida
Spring Hill Office
3460 Mariner Blvd., Spring Hill, FL 34609
(352) 686-1686
Lutz Office
17937 Hunting Bow Cir., Ste. 101, Lutz FL 33558
(813) 749-7548
www.hwcfla.com