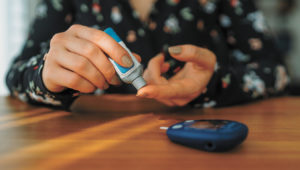 With staggering numbers, diabetes affects over 30 million Americans and alongside of this vast figure, stands 89 million prediabetics! Diabetes is a very expensive disease, costing approximately 245 billion dollars per year, and it wreaks havoc on one's health, contributing to heart disorders, stroke, and cognitive decline, to name a few. In addition, it is the 7th leading cause of death in the United States.
Type I Diabetes Complications Include:
• Low blood sugar
• High blood pressure
• High cholesterol
• Cardiovascular risk factors
• Stroke risks
• Eye disease and conditions
• Kidney disorders
Type II Diabetes Complications Include:
• Heart Disease
• Vascular disease
• Neuropathy
• Kidney disease
• Skin Conditions
• Stroke
• Vision loss and disorders
• Amputations
• Non-Healing ulcers
• Alzheimer's and Dementia
Type II diabetes can also affect all ages, maintaining a healthy weight, exercising and eating the right foods can significantly reduce or stave off this type of disorder. If your diabetes is advanced, getting the appropriate medication and dosing is crucial for reaching and sustaining a healthy lifestyle.
Don't leave prediabetes or diabetes untreated. It's a dangerous disorder that progressively and adversely effects your overall health.
Treatment
Treatment includes taking the recommended medications that your doctor prescribes and also a through diet and exercise program. Cleaning up your diet is one of the best ways to lower your A1C and to improve your insulin resistance issues.
A healthy diet can improve a great deal of dysfunction that has been increasing in the body for years. Not one specific diet is suitable for all people; a diet that is customized to your needs, and genetics is essential to healing your insulin sensitivity.
The most important aspect is to avoid all sugars. This is especially important in the beginning stages as your body is overloaded with insulin and glucose. Sugar causes a great deal of inflammation in the body. Eliminating refined sugars like grains, pasta, and white potatoes can also quickly improve diabetic conditions. Speaking to your physician about the right plan for you is critical.
United Healthcare
Better health begins by caring for the whole you – body, mind and everything else that can affect your health. In times when it can feel challenging to get the care you need, we want to be here to make managing your health care easier – so you can connect to the personalized care you need, where you need it, when it matters to you.
Medical insurance can be complicated. United Healthcare is here to help. Learn about the changing world of plans, premiums and benefits so you can make decisions that make sense for you and your family.
Your Medicare Solutions Ocala
Susan Tate
(352) 207-8607
sjtate@gate.net
James Tate
(352) 207-1645
Jamestate470@gmail.com
You're Invited!
Join us at one of our community meetings about United Healthcare Medicare plans:
Friday, November 22nd @ 10:00am

Stone Creek Grille
9676 SW 62nd Loop, Ocala, FL 34481
Monday, December 2nd | 2:00 pm
Mojo's Grille
2015 SW 17th Street, Ocala, FL