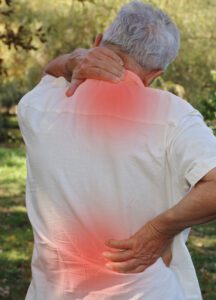 Dr. Sunil Panchal is known by peers, colleagues and patients to be on the cutting-edge of groundbreaking treatments and therapeutics for pain management, including radiofrequency ablation procedures, stem cells with exosomes, and spinal cord stimulation, to name a few. He has incorporated other alternative healing methods into his management of pain including a high-quality CBD supplement available only through healthcare providers called VERSÉA.
Over 116 million people suffer from various types of chronic pain disorders. One of Dr. Panchal's patients, Wayne, has a rare nerve condition in the lower cranial nerves that cause excruciating pain in the back of his head and has also left him with major hearing loss in his right ear. Subsequently, he also suffers from Dural inflammation, which causes pressure and pain in his head as well.
After years of suffering, Wayne found Dr. Panchal, and they have tried several therapies that have worked, but recently, Wayne decided to try VERSÉA. We spoke to him to find out more about his story.
WAYNE: For nearly a decade, I'd been suffering from debilitating pain in the back of my head that was worse at night when I tried to lie down. I saw multiple doctors and specialists at USF. I went through CT scans, MRIs, brain tissue biopsies, and various procedures that never worked. Unfortunately, one of the head neurologists at USF told me that I should retire and take full disability at the age of 61 because they had no other options to help me.
I'm a busy guy. I like to be outside, working, enjoying nature and fishing with my grandkids. I didn't want to live a life in pain that kept me locked away in agony. I've broken bones, had surgeries, and have experienced real discomfort in my life, but this head pain is excruciating and causes blurry vision among other things. I was at the point where brushing my teeth was much too painful. I would cry out in torture, and I'm a macho-kind-of-guy, so it's been a really tough road for me trying to deal with these agonizing issues.
A friend told me about Dr. Panchal, so I went to see him and try an alternative route to fixing my pain.
We first tried radiofrequency, which works because it cauterizes the nerve ending, but they grow back, so once they'd start to regenerate, my pain would come back pretty severely. Dr. Panchal also implanted a pain pump that administers morphine. That worked well, but we had to keep increasing the dosage.
A few months ago, I noticed that Dr. Panchal had a new CBD product called VERSÉA. I've been interested in CBD oil in the past, but never tried it because I didn't think it would really work in my case. Dr. Panchal and I discussed it, and we decided to add it to my treatment protocol.
You're supposed to take a full dropper of the liquid, but I only used a few drops and after only 45 minutes my pain subsided significantly. That was three months ago. I still only use a few drops, not the whole dropper, and I take it in the morning and evening. I have about 80% pain relief with this product. It's been incredible!
My neighbors see me, I'm working outside from 8:30 am to 5:30 pm, and I'm working on my camper, doing yard work, fixing things, and when it gets late, I sit outside and read under my oak tree. The heat used to make my pain so much worse, and I'd have to come inside and try to rest, but with this product, I've seen real change—Something I didn't think was possible.
Wayne is 69 years old now, and when we spoke with him, he had just returned from a camping trip and had been outside cleaning the camper in 90 degree weather. Since adding VERSÉA, he now uses the minimal dose of morphine at 0.18 mg/day. He is definitely enjoying his life with much less pain and is a beacon of hope for many who are suffering with chronic pain.
How CBD (Cannabidiol) works for Chronic Pain
CBD oil is a viable alternative for many patients wanting the healing properties of cannabis and its potent antiviral and anti-inflammatory effects without the strict regulations of medical marijuana.
Our brain and nerve cells have cannabinoid receptors, so our bodies naturally react to cannabidiol. The structure of CBD interacts directly with our cell's receptors. We have an inherent, natural endocannabinoid system that works synergistically with CBD creating a multitude of beneficial reactions in the body. The endocannabinoid cells have tiny receptors that take in chemicals and produce responses. This natural system in our bodies regulates things like pain, mood, sleeping, immunity, pleasure, memory and much more.
Cannabidiol can be quite effective for many conditions that are difficult to treat; some of these include fibromyalgia, irritable bowel syndrome, migraine headaches, seizures, and neuropathic pain, to name a few. Medical-grade CBD should certainly be a consideration for those suffering from chronic pain.
HOWEVER, NOT ALL CBD IS CREATED EQUAL:
VERSÉA was selected after careful review of multiple CBD products and identifying several strengths and advantages. This product was manufactured and packaged in a GMP facility conforming to FDA guidelines, which gives greater confidence in regard to purity. There is also a greater range of clinical dosage strengths, which allows greater flexibility to meet the needs of patients. Manufacturing techniques resulting in greater absorption are another significant advantage, and include a unique hydrophilic broad-spectrum formulation, encompassed by a proprietary nanotechnology to promote absorption, as well as coated capsules that promote greater absorption than standard capsules or gel caps. In addition it has unique IP on gel melt for buccal delivery. Also, the product is organic, Non-GMO, and cultivated and manufactured in the USA.
To find out how you can include VERSÉA in a comprehensive treatment plan, please schedule an appointment with Dr. Panchal for an evaluation.
Dr. Panchal is offering this unique code for Health & Wellness Magazine readers:
ESTC
Please order your VERSÉA products using code ESTC at https://verseashop.com.
At The National Institute of Spine and Pain, their goal is to strive to deliver the highest quality of comprehensive care for those who are suffering from spine, joint, and nerve injuries. They have many alternatives to help you with your personalized treatment needs. Please visit their website at www.nationalinstituteofpain.org, or call them at (813) 264-PAIN (7246).
At the National Institute of Pain, they treat each patient individually, using the latest equipment and various innovative procedures to diagnose pain and determine your care needs. The National Institute of Pain's President and Founder, Sunil J. Panchal, MD, is a board-certified interventional pain/ minimally invasive spine physician. He earned his Bachelor's degree in Biology from Rensselaer Polytechnic Institute in Troy, NY, and earned his medical degree from Albany Medical College of Union University in Albany, NY. In addition, Dr. Panchal completed The Business of Medicine Graduate Program at Johns Hopkins University in Baltimore, MD. Dr. Panchal completed an internship in general surgery at the University of South Florida in Tampa, a residency in anesthesiology at Northwestern University in Chicago, IL and a fellowship in interventional pain medicine at the University of Illinois in Chicago. He previously served as co-director of the chronic pain service and director of the multidisciplinary pain fellowship training program at Johns Hopkins University and subsequently as director of the division of pain medicine at Cornell University in New York. He is a member of the North American Spine Society, the North American Neuromodulation Society, the International Neuromodulation Society, and the American Academy of Pain Medicine. Dr. Panchal has authored numerous peer-reviewed journal articles and has served as a reviewer and editor for several journals. He is the co-editor and co-author of the textbook Comprehensive Treatment of Chronic Pain by Medical, Interventional, and Integrative Approaches (2013). Dr. Panchal is a principal investigator in numerous clinical trials, including a current study evaluating sacroiliac joint fusion. Dr. Panchal also served as the Chair of the National Comprehensive Cancer Network Cancer Pain Panel and has lectured widely at the national and international level. He is actively involved in the development of novel analgesics and neurostimulation devices, and in clinical research protocol design.
4911 Van Dyke Rd., Lutz, FL 33558
10740 Palm River Rd, Suite 490, Tampa, FL 33619