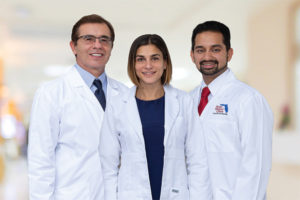 While most people will have infrequent, abnormal heartbeats in their lifetime, some will experience a cardiac arrhythmia, a condition in which the heart beats with an irregular or abnormal rhythm. Arrhythmias can be classified as too slow (bradycardia), too fast (tachycardia), too early (premature contraction), or irregular (fibrillation). Many cardiac arrhythmias are harmless and require little or no treatment, but it's critical to seek medical attention to rule out life-threatening or damaging disorders.
Symptoms of arrhythmias are widespread and mostly related to the type of arrhythmia a person is experiencing. These include, but certainly are not limited to shortness of breath, lightheadedness, dizziness, fainting or near fainting, palpitations (flutters or pounding in the chest), fatigue, weakness, and chest pain.
Common risk factors for arrhythmia include old age, genetics, heart disease (including coronary artery disease, cardiomyopathy – enlarged or weakened heart muscle, and valvular heart disease), hypertension, obesity, diabetes, and sleep apnea. Some medications, stress, and heavy alcohol, caffeine or illegal drug use can also contribute to or exacerbate arrhythmias.
Tachycardias can be complex and variable, leading to a variety of possible treatments depending on the type of rhythm diagnosed. Medications may help suppress a tachyarrhythmia and cardioversion can be effective in some cases. A type of tachycardia known as an SVT or Supraventricular tachycardia is classified as abnormal electrical activity in the upper and lower chambers of the heart that cause an unusually fast heart rhythm. These issues lead the heart to not beat properly and can leave individuals feeling faint, weak and short of breath, and it also creates an unsettling rapid, heart-pounding sensation.
Many additional circumstances can cause abnormal heart rhythms and there are multiple ways to treat these abnormalities, but a standard procedure for some cardiac disruptions is called an arterial ablation.
Atrial Ablations
Ablations can eradicate a tachycardia by freezing or burning small areas of tissue in the heart where the arrhythmia is thought to originate from. Using radiofrequency energy, a catheter ablation uses heat to destroy tiny portions of the heart tissue that are causing these irregular stimulations. Using an electrode catheter, the physician sends a small electrical impulse to activate the abnormal tissue in the heart. During the procedure, you will be sedated, but awake and the total time needed is typically two to four hours in an outpatient cath lab.
Cryogenic ablation is performed in much the same way as the radiofrequency version. Cryogenic ablations produce necrosis by pumping refrigerant (N2O) through a balloon. This is done in one step and freezes the abnormal tissue that 's causing the arrhythmia. Both of these procedures are FDA approved.
The Department of Cardiology & HeartCare at Florida Medical Clinic has an experienced team of cardiologists to provide comprehensive outpatient diagnostic services in multiple convenient locations. Their non-invasive diagnostic laboratories have been accredited by ICANL and ICAEL.
Specialty Cardiology Services & Conditions
• Adult congenital heart disease
• Cholesterol and lipid disorders
• Coronary and peripheral vascular disease clinic
• Follow-up of angioplasty, stents and bypass surgery
• Arrhythmia & Rhythm Disorders Program
• Heart Failure Clinic
• Pacemaker & ICD Clinic
• Pulmonary Hypertension
• Anticoagulation Clinic
• Abdominal Aortic Aneurysm
• High-Risk Coronary Interventions
• Structural Heart Disease Aortic Stenosis
• Congestive Heart Failure
• Structural Heart Disease
• Peripheral Vascular Diseases
• Device Implantation
Andrea Tordini, MD
Dr. Tordini is a Clinical Cardiac Electrophysiologist specializing in the management of abnormal heart rhythms. Her areas of expertise include atrial fibrillation ablation and management, evaluation and management of syncope and symptoms related to slow heart rhythms, pacemaker and cardiac defibrillator implantation, as well as management of heart failure through cardiac resynchronization therapy. Dr. Tordini focuses on providing optimal, personalized care for her patients in order to relieve symptoms related to heart rhythm abnormalities, and improve quality and longevity of life.
Florida Medical Clinic, A Leader in Comprehensive Health Care
At Florida Medical Clinic, your health and wellbeing is their specialty. Their team of compassionate, experienced physicians offers a comprehensive range of healthcare services. By specializing in everything from family and internal medicine services to cardiology, gastroenterology, sports medicine, plastic surgery, and beyond, all within a single, clinically integrated network, their team streamlines every aspect of your healthcare. There's only one name you'll need to remember for all of your medical needs:
Florida Medical Clinic.
Their team of physicians treats patients of all ages, from infants to seniors. In addition to emphasizing preventive care to help their patients stay healthy, their primary care services include physical exams, urgent care appointments for non-life-threatening injuries and illnesses, cancer screenings, minor surgical procedures, routine gynecology and dermatology services, and ongoing management of chronic conditions such as autoimmune disorders, diabetes, and
osteoporosis.
To find out more or to schedule your appointment, please contact them today.
Wiregrass Multi Specialty Campus
2352 Bruce B Downs Blvd. Suite 203
Wesley Chapel, FL 33544
Multi Specialty Campus
38135 Market Square
Zephyrhills, Florida 33542
Cardiology
813.788.5575