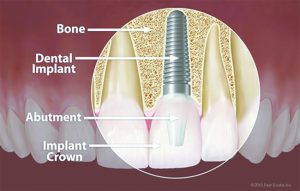 Generally speaking, if you have lost teeth you are a candidate for dental implants. It is important that you are in good health, however, as there are some conditions and diseases that can affect whether dental implants are right for you. For example, uncontrolled diabetes, cancer, radiation to the jaws, smoking, alcoholism, or uncontrolled periodontal (gum) disease may affect whether dental implants will fuse to your bone. It is important to let your dental surgeon know all about your medical history (past and present) together with all medications you are taking, whether prescribed, alternative (herbal) or over-the-counter.
Where and how implants are placed requires a detailed assessment of your overall stomatognathic system ("stoma" – mouth; "gnathic" – jaws), within which the teeth function. This will necessitate compiling records that include study models of your mouth and bite, and specialized radiographs (x-rays), which may include 3D scans known as computerized tomograms (CT scans). Planning with the help of computer imaging ensures that dental implants can be placed in exactly the right position in the bone.
How and why is bone lost when teeth are lost?
Bone needs stimulation to maintain its form and density. In the case of alveolar (sac-like) bone that surrounds and supports teeth, the necessary stimulation comes from the teeth themselves.
When a tooth is lost, the lack of stimulation causes loss of alveolar bone.  There is a 25% decrease in width of bone during the first year after tooth loss and an overall decrease in height over the next few years.
The more teeth lost, the more function lost. This leads to some serious aesthetic and functional problems, particularly in people who have lost all of their teeth.   It doesn't stop there. After alveolar bone is lost, the bone beneath it, basal bone — the jawbone proper — also begins to resorb (melt away).
How can bone be preserved or re-grown to support dental implants?
Grafting bone into the extraction sockets at the time of tooth loss or removal can help preserve bone volume needed for implant placement.
Surgical techniques are also available to regenerate (re-grow) bone that has been lost to provide the necessary bone substance for anchoring implants. In fact, a primary reason to consider dental implants to replace missing teeth is the maintenance of jawbone.
Bone needs stimulation to stay healthy. Because dental implants fuse to the bone, they stabilize it and prevent further bone loss.   Resorption is a normal and inevitable process in which bone is lost when it is no longer supporting or connected to teeth. Only dental implants can stop this process and preserve the bone.
How are dental implants placed and who places them?
It takes a dental team to assess and plan dental implant placement and restoration — the fabrication of the crowns, bridgework or dentures that attach atop the implants and are visible in your mouth. The dental team consists of a dental surgical specialist — a periodontist, oral surgeon, or a general dentist with advanced training in implant surgery; a restorative dentist, who plans and places the tooth restorations; and a dental laboratory technician who fabricates the components to attach a new tooth to an implant.
Placing dental implants requires a surgical procedure in which precision channels are created in the jawbone, often using a surgical guide. The implants are then fitted into the sites so that they are in intimate contact with the bone. They generally require two to six months to fuse to the bone before they can have tooth restorations attached to them to complete the process.
Belleview Dental Center is family-owned and dedicated to delivering the best in general, restorative, implant, and cosmetic dental care for your entire family as well as same day emergency services and extended office hours.  Their mission is to ensure your dental experience is positive and stress free.  You will enjoy compassionate, comfortable dental care designed to provide a lifetime of optimal oral health.  Together with our periodontist, all of the doctors at Belleview Dental Center have extensive experience with placing and restoring dental implants.  Belleview Dental Center has a long heritage of dentists with a great deal of trusted experience.  Your smile will be in good hands with Dr. Henry Sweeny Sr., Dr. Henry "Bo" Sweeny Jr., Dr. Samuel Sweeny and their dedicated staff.
About
Dr. Henry A. Sweeny Jr.
Dr. Henry A. Sweeny Jr. joined Belleview Dental Center  in July of 2003 after graduating from Dental School. He is fondly known to his patients as Dr. Bo. He attended the University of Florida and received a Bachelor of Science in Nutritional Sciences, a Masters of Science in Food Science and Human Nutrition and continued at the University of Florida to complete his Doctor of Dental Medicine. Throughout his extensive career, Dr. Sweeny has attended continuing education courses and has focused on comprehensive training in Implant Placement and Implant Restoration. He also has completed advanced education in Cosmetic Dentistry. Dr. Sweeny is a member of the American Dental Association, Florida Dental Association, and the International Team for Implantology. Dr. Sweeny's practice also includes General Dental Procedures, Root Canals, Oral Surgery, Extractions, and Dentistry on Children. He has a particular passion for Implants and Oral Surgery. Dr. Sweeny is an avid fisherman and in his free time he also enjoys golf, hunting, exercising, volunteering in the community, and can frequently be seen attending University of  Florida Gator football games. He works alongside his Father, Henry A Sweeny Sr. DMD and his Brother Samuel J Sweeny DMD at this treasured local Dental Practice.