By Dana Hall McCain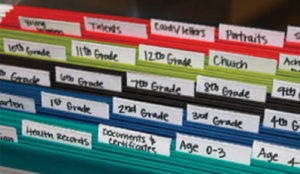 If you've been through a school year with a house full of kids, you know that organization can be the difference between success and chaos. Whether it's establishing a great space and routine for homework or study time, keeping smelly sports equipment corralled yet handy, streamlining the lunch-packing process, or managing the onslaught of papers that come home each week—setting up a few systems for doing the school year right will pay off in preserved sanity. Can you put too high a price on that? We didn't think so…
Here's how to dive in and get your home back-to-school ready!
1. Create a homework station for your students.
It can be as simple or as elaborate as you see fit, but a designated space where all of the study supplies live can make afternoon homework time a little easier.
2. Create files for paperwork each child brings home.
We recommend at least two for each child: one for parent information related to academics and one for forms and schedules related to extracurriculars. You can also set up files for the work they bring home that you want to keep.
3. Get your kids trained in the "after school flow".
Teach your gang to go through a series of actions each afternoon to learn personal responsibility, organization, and to be helpful around the house. We love the suggested routine on this chart!
4. Set up a lunch packing station.
Create an area of the fridge and/or pantry dedicated to the supplies and food items needed to pack a healthy lunch. It will help you in packing for smaller kids and will help older kids do it for themselves more easily! It's just one of several ways to make school mornings easier.
5. Create a holding area for sports equipment in the garage.
Sports equipment can smell like a herd of goats when stored in your home or your car. Solution? Keep everything handy in bins or lockers by the back door. It can air out overnight and it's ready to grab again when you head out in the morning!
6. Stock up on healthy and quick breakfast items.
Make sure your freezer and pantry are chock full of easy, on-the-go breakfast options. We love these make-ahead, freezable egg and sausage muffins from the Little Us blog (littlebgcg.com)!
Ingredients
5 Eggs
1/4 Cup Milk
2 Slices of any Cheese
Meat (optional)
Directions
1. Whisk 5 eggs and 1/4 cup of milk together.
2. Add two slices of cheese (grated or in small pieces) and
diced meat to the egg mixture.
3. Salt and Pepper to taste.
4. Butter or Spray your muffin tin with a non-stick spray.
5. Evenly fill each muffin hole with the egg mixture.
6. Bake at 350 degrees for 20 minutes.
7. Freezing Instructions: Remove egg muffins from the
muffin tin and let cool. Place in a freezer bag.
8. Reheating Instructions: 1-2 minutes in your microwave
7. Establish a family calendar for all the afternoon and evening busyness.
Whether you use an old-school paper calendar on the fridge or one of the slick apps designed for families on the go, get everybody's schedule in one place so that both parents can access it easily.
For some additional helps, our Back to School Printable Collection makes your life easier and the school year better!
The collection includes:
• 30 Day Back-to-School Challenge
• Back to School Talk: Conversation Starters
• Discuss it: Making Friends
• Bag Tags
Copyright 2018. iMOM.
All Rights Reserved. Reprinted with
permission. For more inspiration and
resources, visit iMOM.com.