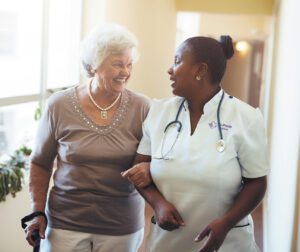 Every year, the month of November is recognized as National Hospice & Palliative Care Month to help raise awareness of the efforts of local hospice and palliative health care organizations.
Gulfside Hospice has been Pasco County's premier hospice of choice, serving residents for 30 years. As one of the few non-profit hospice organizations across the country, as well as the Tampa Bay area, Gulfside assures that no patient is turned away from care because of financial reasons, or for lack of insurance or healthcare coverage.
Every day, more than 525 Pasco County residents receive hospice care from the team at Gulfside. But hospice care is about more than just the patient. It's about the whole family.
"Thank you, Gulfside, for the excellent care you provided to our father," said Linda, the daughter of a hospice patient, in a letter. "He was in excellent hands and that was such a relief for all of us. The comfort you provided to him and our family has made our loss much more bearable."
With an interdisciplinary approach to care and an array of services, Gulfside Hospice is able to help patients and families live their lives to the fullest. Every person receiving care from Gulfside has access to the organization's whole team, which includes hospice-certified physicians, nurses, hospice aides, social workers, chaplains and volunteers. Patients can also continue visiting their current physician, if they wish.
Some of the services provided by Gulfside's gracious team include visits from physicians who offer pain management and symptom control; regular visits from registered nurses, plus the ability to contact the nursing team 24/7; around-the-clock crisis nursing care at home, when necessary; coordination of medical supplies, medication and equipment like oxygen tanks, walkers, hospital beds and more; assistance with personal care provided by certified nursing assistants; and services from social workers who specialize in helping families cope with issues surrounding life-limiting illnesses.
Gulfside Hospice also offers spiritual care services provided by chaplains, respite care from trained volunteers and assistance with running errands, and bereavement services for families, including regular workshops, support groups and individual counseling.
All of the care and services offered by Gulfside Hospice are centered around one primary goal: making every day count for patients and their families.
Gulfside Hospice is a division of Gulfside Healthcare Services, and is the only not-for-profit hospice that serves Pasco County exclusively, and was the first hospice in Pasco to receive The Joint Commission's Seal of Approval Accreditation.
To learn more about how Gulfside can help you and your family, call (800) 561-4883 to speak with one of the organization's experts. For more information, visit Gulfside.org.