Submitted by Hospice of Marion County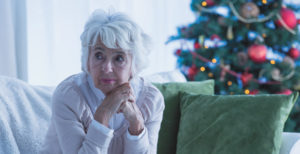 Death can happen to anyone at any age and can be a sudden accident or expected over a long period of time due to a critical illness.
No matter how it happens, or how someone views death and the dying process, we all will eventually experience the loss of a friend or loved one, how death impacts our life and the lives of those around us.
Grief is a healing process that takes time. There is no right or wrong way to grieve, and not everyone can get over the loss the same way and move on with their lives. As we grieve, we might find it hard to let go or impossible to accept the loss. Others find relief that there is no more suffering. The grieving process is different for each person. It's normal for a person to go through a wide range of feelings – anger, guilt, sadness, depression, anxiety, acceptance and hope. Sharing these feelings with others is beneficial on your journey to healing.
The holidays can bring emotional feelings, both positive and negative, making it a challenging time for many. Hospice of Marion County (HMC) is hosting a workshop on "Keeping the Holiday's Light" on December 12 from 10:00-11:30 a.m. at the Monarch Center for Hope & Healing, located at 2895 SE 62nd Street, Ocala. In this session, attendees are provided coping skills for grieving the loss of a loved one, which can be especially difficult during the holidays.
The workshop is open to the public and encourages attendees to discover thoughtful ways to keep the holidays light. Seating is limited; Marion County residents can RSVP to reserve a seat by calling (352) 873-7456 or email Veronica at vvaughan@hospiceofmarion.com.
About The Monarch Center for Hope & Healing: This service is provided by trained professionals and offers grief counseling at no charge to any Marion County resident who has experienced the loss of a loved one due to death. Counseling sessions can be individually or in groups, and are available for children, teens and adults. Services include:
• Adult Grief Support groups (Friends in Grief) offer comfort and encouragement over 5 weekly sessions.
• Memorial Services of Remembrance are special times to remember and celebrate the lives of loved ones who have died.
• Grief Care (introductory class) seminars provide education about the journey of grief.
• Grief in the Workplace to help organizations that have lost an employee
• Monthly Workshops for the general public
• Seminars with the school system
• Teen Tuesdays and Club Soul are programs tailored just for teens experiencing grief
• Camp Mariposa, held twice a year for children ages 5-12, is a day-long interactive session
• Assessment services and community resource coordination (short-term)
• Private consultations about Advance Directives (Living Wills)
Visit http://www.monarchcenter-marion.com/index.html to learn more or call (352) 873-7456.