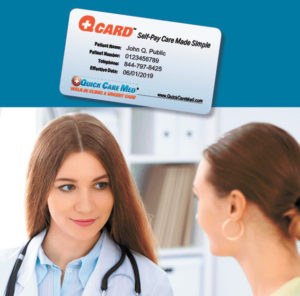 Each day, we learn new facts, figures, and protocols concerning COVID-19. Recently, we were informed by the FDA that they are investigated specific drugs and running expedited trials to see if they are effective at killing the virus. They are also running plasma testing from the blood of those that have recovered from COVID-19. At this point, we also know that the vaccine will take approximately 12 months to become available. As we navigate through the coronavirus pandemic over the next few months, disinfection and social distancing is the recommended preventative advice, and boosting the immune system is also beneficial. Healthier individuals are better able to fight the infection and make full recoveries. If you get sick, you need to be tested!
Quick Care's Answer for Those without Medical Insurance
If you don't have health insurance, things can get pricey rather quickly. Luckily the QCARD is an alternative to conventional health insurance giving you access to the Quick Care medical professionals with ease and affordability. The QCARDis a program based for self-pay patients or anyone without medical insurance. Quick Care Med always takes the lead in finding innovative ways to help their communities and their patient demographic. They implemented this program to offer a well-needed resolution for so many individuals and families.
Who can benefit from the QCARD program?
Almost anyone without medical insurance will find QCARD to be a valid answer to their healthcare needs. For example:
1. Headaches
2. Influenza or colds
3. Injuries or trauma
4. Asthma or allergy Issues
5. Twisted ankle
6. Your child has a bad cold or is colicky.
7. And the list goes on and on
*QCARD's copay is $10 per visit. Average medical office visits can be hundreds of dollars!
The QCARD works in 3 easy steps!
1. Patient can sign up online or in the office
2. Patient pays $1 a day plus a $10 copay at time of service
3. Patient can be seen as many times in a month as they like for just the $10 co-pay
Where can you use the QCARD?
Quick Care Med has 10 locations in Alachua, Citrus, Levy and Marion Counties. We have 3 offices in the Ocala area, plus other locations in Dunnellon, Beverly Hills, Crystal River, Homosassa, Inverness, Newberry and Williston.
Why get the QCARD now?
If you don't have insurance, then you should get the QCARD now. It is a good idea to have
at least a basic healthcare plan to deal with life's unforeseen events. It will give you access
to medical professionals when you need it the most.
QCARD is a great healthcare plan for the following:
• Those with no medical insurance
• Part timers
• Snowbirds
• Just off parents insurance
• Agricultural workers
• New to the area
If you have insurance and want to avoid high deductible, the QCARD is perfect for you. It is a great companion to high deductible insurance plans, as you can keep the insurance to cover only catastrophic events. You will save money by not having to pay the high deductible.
Quick Care Med Urgent Care
If your health needs are not emergent and in need of life-saving measures, the benefit of urgent care in comparison are numerous. To name a few, the wait time will be much shorter. For the most part, urgent care can see their patients within an hour. The cost is also much less with urgent care than it is with emergency room treatment. Quick Care Med urgent care provides you with the proper paperwork to follow up with your primary care physician or specialist, as urgent care takes initiatives to keep the line of communication open to make certain that your treatment is a top priority.
There are numerous reasons people go to urgent care, from sore throats, skin infections, school sports physicals, vaccinations, colds and flu, sprains, heat exhaustion, animal bites, dehydration, broken bones and much more. Before you go to the ER, consider if you could instead be treated at urgent care because of the numerous benefits to you and your loved ones.
Quick Care Med Walk-In Clinic & Urgent Care is a comprehensive urgent care clinic with multiple specialties to serve you. Quick Care Med has locations in Marion (Dunnellon and Ocala), Citrus (Crystal River, Inverness, Beverly Hills, and Homosassa), Levy (Williston), & Alachua (Newberry) counties, plus our newest location in Chiefland that provides immediate walk-in treatment to pediatric and adult patients for illnesses and injuries, wellness exams, and employer health services.
At Quick Care Med, they understand that illness and injuries can happen outside of the normal 9 to 5. That's why they provide Fast, Easy, and Affordable® urgent care with the convenience of extended hours, including weekends and holidays!
Quick Care Offers The QCard—Affordable Healthcare for Just $1 a Day, Ask us How or Visit us Online!
4 Locations in Ocala
3415 E. Silver Springs Blvd, Ocala, FL 34470
(On Silver Springs Blvd. across from Publix)
8119 SW State Rd 200, Ocala, FL 3448
(Just past Walgreens)
6341 N US 441, Ocala, FL 34475
(Across from John Deer)
NEW LOCATION: Chiefland
2205 N Young Blvd, Chiefland, FL 32626
Quick Care Med
Walk-In Clinic & Urgent Care
844-797-8425
www.quickcaremed.com