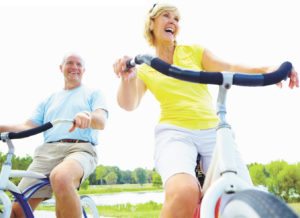 Welcome to CVH – Advanced diagnostics, evaluation and nonsurgical treatment of vascular conditions from caring Board Certified interventional radiologists RAO's Center for Vascular Health (CVH) provides a gamut of next-generation vascular and non-vascular care and a team of experienced and compassionate interventional radiologists dedicated to your health, safety and comfort. Many of the procedures CVH provides once demanded open surgical procedures, but advances in interventional medicine afford less invasive solutions for greater safety and comfort and quicker recovery.
As part of our commitment to accurate diagnoses and effective therapeutic care, CVH offers important services at RAO's Medical Imaging Center and TimberRidge Imaging Center, such as CT angiography to investigate and assess the blood vessels of the heart, brain/head, lungs and extremities to discover narrowed or blocked vessels (peripheral vascular disease). We also provide pain relief services like CT-guided facet joint block injections, which deliver an anti-inflammatory corticosteroid directly to the source of pain to calm irritated nerves and promote smoother joint movement.
When somewhat more invasive procedures are required, CVH partners with AdventHealth Ocala and Ocala Regional Medical Center (ORMC). Our Board Certified interventional radiologists work directly with these trusted hospitals to provide an array of services, including arteriograms to examine arteries throughout the body and brain, radio frequency ablation to treat pulmonary and renal problems, and cryoablation to freeze and kill tumors in the kidneys, among other services.
Two of CVH's most common procedures are uterine artery embolization (UFE), a quick, minimally invasive treatment that shrinks uterine fibroids, and varicose vein evaluation and treatment, which is customized to the type, severity and location of the varicosed vein. CVH provides ultrasound vein evaluation and advanced treatments including endovascular laser ablation and phlebectomy, both of which produce less scarring and much quicker healing times compared to traditional surgery.
Our doctors also perform an array of other services such as:
• Infusaport placement and removal for chemotherapy, and chemoembolization specifically for patients with liver cancer.
• Vertebral treatments like kyphoplasty and vertebroplasty to stabilize compression fractures of the spine, as well as neuro and musculoskeletal injections for pain.
• For pain, swelling and potential infertility, varicocele embolization is used to divert blood flow away from an enlarged vein in a male's scrotum with reversed or stagnant blood flow.
If you have a vascular, vertebral or pain management issue, talk to your medical provider about interventional services from CVH, or contact us directly for more information. We are here to help improve your very important life.
CVH – Center for Vascular Health
352-671-4252 | www.RAOcala.com