By Daniel Taylor, DC, Compton Chiropractic Care
Are you suffering from low back pain?  Are you tired of taking pain medication and muscle relaxers that only provides temporary relief?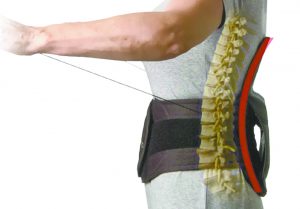 Looking for other ways to relieve back pain without invasive surgery?  If you answered yes to these questions, then we can help.  Compton Chiropractic is now offering back and knee braces as a non-invasive alternative to relieve back pain and facilitate healing and rehabilitation at little to no cost to our patients.
How does it work?
Back and Knee pain without support causes constant pressure on the joints and muscles.  If left untreated, the pain will progressively get worse and quality of life suffers. Our braces are designed to fit any body type and deliver localized compression directly to those overworked muscles and joints while relieving spasms and reducing pain.  Current clinical research has shown that supporting these regions can reduce pain, improve functional status and postpone or prevent the need for medication and surgeries.   The self-adjusting braces contour precisely to your body for maximum support and pain relief.  The lightweight design allows users to wear the braces comfortably while providing maximum support.
Compton Chiropractic provides high quality braces at little or no cost to our patients.  Medicare and other insurance companies routinely cover the cost of these items because they provide support, relieve pain, and decrease the need for expensive surgeries and pain medications.  So no matter if you are looking for extra support while playing golf and pickle ball or just want to avoid surgery; with the proper brace we can get you back to the greens in no time. If you or a loved one could benefit from one of these braces, please call us today (352-391-1126) to setup a free consultation with one of our Doctors.
What makes Compton Chiropractic different
from other Chiropractors?
The Doctors at Compton Chiropractic are graduates from Palmer College of Chiropractic and have been serving The Villages since 2006.   The Doctors are integrated with several local primary care physicians, urgent cares, neurologists, pain management physicians, and orthopedic surgeons.  This level of integration means that the patient benefits faster and more effectively.  The physicians at Compton Chiropractic treat patients as an extension of their own family.
Every patient gets a detailed initial evaluation including a complete history, orthopedic and neurological testing.  With a proper diagnosis, our patients will receive a proper treatment plan.  With a proper treatment plan, patient's pain is decreased in shorter periods of time.
Compton Chiropractic is also proud to announce that it's Office is Medicare accredited by The Healthcare Quality Association on Accreditation (HQAA).  Only a small percentage of Offices in the country hold this unique accreditation which allows us to be a dispensing location for approved Medicare braces.
TESTIMONIALS
"I suffered from sciatica for 10 years until a friend told me about Dr. Compton.  After 8 treatments and a brace, I was back on the golf course and out of pain." – L.R.
"My knee pain was debilitating until Dr. Compton introduced me to a brace that literally takes the pain away.  My knee feels young again and I couldn't be happier." A.A
"The Doctors are all amazing and actually care for patients like they were family." – A.O.
"I was referred to Dr. Compton by Medicare after an operation.  I needed a brace to help me recover and Compton Chiropractic treated me wonderfully."- C.S.
"The Doctors and staff at Compton Chiropractic are knowledgeable and efficient.  They are always highly recommended." -Local Family Physician
COMPTON CHIROPRACTIC CARE
Providing Quality Chiropractic Care to patients in and around The Villages, Florida.
Our Philosophy
. Treat patients as individuals and perform a thorough exam
. Deliver an accurate diagnosis
. Treat patients with the highly reliable and world-known Palmer "hands on" Technique
. No long-term treatment plans or large  out-of-pocket expenses
. Provide patients with non-surgical alternatives to pain
Our Facility Offers
. Medicare accreditation for DME bracing
. State-of-the-art treatment tables
. On-site digital x-ray
. Physical Rehab suite with cold laser technology
. Use of blood and urine testing to evaluate for food allergies and heavy metal toxicity
. Clinical Nutrition
. Quality care without the wait
Accepting
. Medicare
. Blue Cross Blue Shield
. Cigna, Aetna
. Humana
. United Health Care plans
. Personal Injury
CALL TODAY
352-391-9467