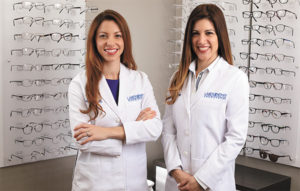 Outstanding eye care begins with timely service from caring, experienced professionals. Because demand for medical services in the region is high, especially among seniors, patients
sometimes wait longer than they'd like to see
a doctor.
That's why Lake Eye is thrilled to introduce two innovative young doctors to its healthcare team, Lindsey Walsh, OD and Adria Anguita, OD. Both are optometrists, which means they are doctors qualified to provide a wide range of diagnostic and therapeutic care. Drs. Walsh and Anguita have extensive training and experience not only assessing vision and prescribing lenses, but also performing comprehensive diagnostic testing for common disorders like cataracts, glaucoma and macular degeneration, and treating dry eye, red eye, eye/eyelid infections, injuries and other problems, so patients can see an eye doctor quicker than ever.
Although they are young, these talented doctors are highly experienced. Dr. Anguita completed her postdoctoral residency and a rotation in ocular diseases at the VA in Gainesville, alongside specialists in glaucoma, retinal and corneal diseases, neuro-ophthalmology and other areas of practice. "The basic difference between an optometrist and an ophthalmologist is an ophthalmologist is qualified to perform surgery," says Dr. Anguita. "Otherwise we undergo the same exhaustive education and training, so patients can feel relaxed and confident in our care. I really look forward to helping people, particularly seniors, overcome eye issues and achieve clearer, healthier vision."
"I started my career working at the front desk of an optometry office," says Dr. Walsh. "I always wanted to be a doctor, and working there helped me decide on the field. Eye care was a natural fit." After earning her doctoral degree, Dr. Walsh completed an externship at the renowned Bascom Palmer Eye Institute, one of the nation's top eye hospitals. Dr. Walsh has specialized education in prescribing and fitting contact lenses, including scleral lenses, a gas-permeable lens designed to correct vision in people with keratoconus and other corneal abnormalities. "Many of these patients have been told they can't wear contacts, so I love being able to offer them as a means for clearer vision."
Both Dr. Walsh and Dr. Anguita are certified in corneal refractive therapy, an FDA-approved program to help correct myopia in children.
The addition of these energetic young doctors generates a freshness and vitality within the storied offices of the 41-year-old Lake Eye, and compliments the team of seasoned and respected Board-certified ophthalmologists. "We are excited by the passion and dynamism of our talented new doctors," says ophthalmologist Dr. Mark Vocci, "and we're very happy to be able to see more patients on their schedules. It continues our tradition of and commitment to outstanding care."
Lake Eye Associates
352-750-2020
www.LakeEye.com