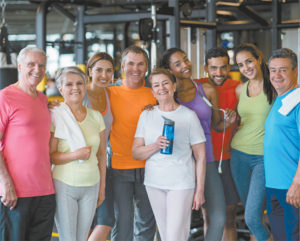 If you have high cholesterol, your doctor has likely talked to you about exercise. In addition to improving your diet, exercise is an effective lifestyle change you can make to help bring your numbers down naturally. At Ave Maria, our residents have access to many exercise options both indoors and out.
How to Start Exercising
Although moderate physical activity such as brisk walking is safe for most people, health experts suggest that you talk to your doctor before you start an exercise program.
What Kind of Exercise Will Help?
To improve cholesterol levels, as well as lower your blood pressure and risk for heart attack and stroke, the American Heart Association (AHA) recommends an average of 40 minutes of moderate – to vigorous-intensity aerobic activity three or four times a week. For overall cardiovascular health, the AHA suggests at least 150 minutes of moderate exercise — or 75 minutes of vigorous exercise — per week.
Examples of moderate-intensity exercise include:
• Walking briskly (3 miles per hour or faster). Ave Maria has miles of walking trails.
• Bicycling (10 miles per hour or slower). Our bike friendly town allows you to bike to shopping, dining and more!
• Playing tennis (doubles). The Ave Maria North Park is located just north of the Town Center and provides an ideal spot for tennis, baseball, basketball, and plenty of fun in the sun.
Examples of vigorous-intensity exercise include:
• Racewalking, jogging or running. Located in the Town Center, the Ave Maria Fitness Center spans 5,000 square feet of workout and classroom area, men's and women's showers, reception area and offices. The workout floor includes state-of-the-art treadmills, stationary bikes, and Star Trac exercise equipment.
• Swimming laps. Adjacent to the schools and the North Park lies Ave Maria's famed Water Park, rivaling the finest parks of its kind in the area. With its interactive fountains, slides, pools, and pavilions, the Water Park provides hours of resort-style entertainment on a year-round basis.
• Aerobic dancing. The Club at Maple Ridge will be the central hub of activity and relaxation exclusive to residents of Maple Ridge, Maple Ridge Reserve, and Coquina. The Club is poised to include indoor and outdoor activities for all ages including an aerobics studio, bocce court, and dog park.
Ave Maria residents enjoy a seemingly endless array of activities, from free organized events to a waterpark, aquatics center, dog park and miles of walking trails. At Ave Maria, you don't just live here; you come alive here.
With homes from our three featured builders priced from the low $200s to $400s, Ave Maria indeed has something for everyone. Just a few hours south of The Villages on I-75. Make a trip of it and visit our 21 models open daily. Call (239) 325-3903 or visit avemaria.com to learn more.
How Do I Get There?
From I-75 south take Exit 111, and then make a left/east on Immokalee Road (County Road 846).
Proceed 10 miles to Oil Well Road (County Road 858). Turn right on Oil Well Road to Ave Maria.