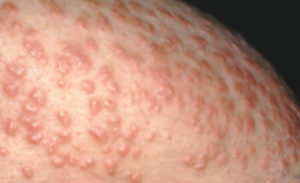 February is Heart Disease awareness month. Knowing more about the disease and how it can present, can save lives. Not uncommonly, heart disease can go undetected, especially when typical symptoms are not present. Warning signs can appear on your skin and nails, which is why your dermatologist may be the first doctor to notice that you have heart disease. If you know what to look for, you can also find warning signs of heart disease on your skin and nails. The following pictures show you what to look for.
1. Swelling in your feet and lower legs
What it may be telling you: Your heart isn't working properly. Many diseases of the heart cause fluid to build up in your feet and lower legs. As the fluid builds up, you may see swelling, which can extend as far as the upper legs and groin.
Medical name: Edema (medical term for swelling)
2. Clusters of waxy bumps that suddenly appear on your skin
What it may be telling you: You have skyrocketing cholesterol levels or diabetes. The sudden appearance of these bumps can look like a rash, warts, or a contagious skin condition called molluscum contagiosum. These bumps are actually fatty deposits of cholesterol caused by extremely high levels of triglycerides (type of cholesterol) in the blood.
Medical name: Eruptive xanthoma
3. Smooth, waxy lumps on your skin
What it may be telling you: You have protein deposits in your heart or another organ. These waxy lumps can appear anywhere on the skin. They often indicate that there's an abnormal buildup of protein in an organ, such as your heart. If protein builds up in the heart, it's hard for the heart to work properly.
Medical name: Nodules of systemic amyloidosis ("nodule" means lump and amyloidosis refers to the type of protein that has built up)
4. Brownish (or reddish) discoloration, usually on your sole(s) or palm(s)
What it may be telling you: You have an infection in your heart or blood vessel. The spots that developed on the bottom of this patient's foot are also a sign of a heart infection called infective endocarditis. Unlike Osler nodules, these spots are painless. These spots will clear without treatment, usually in a few days or weeks. The infection requires treatment.
Medical name: Janeway lesions, which are named after an American doctor, Theodore Caldwell Janeway.
Gil Cortes, MD, FAAD
NOVU Dermatology
Practice Owner & Dermatologist
(352) 775-3565
NOVUDERMATOLOGY.COM
Rolling Oaks Professional Plaza
929 N. US Hwy 441 Suite 603
Lady Lake, FL 32159