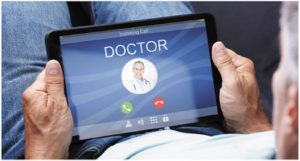 Telehealth is now available for new and existing patients. Dr. Freeman is providing dermatology care from the comfort of your home. Skip waiting in our lobby and see one of our providers via your smartphone, tablet or computer.
Telehealth Visit Information:
New and established patients can connect with us for routine office visits and consultations.  You can receive a diagnosis, treatment plan, and prescription electronically submitted to your pharmacy – all through a virtual dermatology visit!
How to Get Started:
Option # 1
Go to the following link to request your telehealth visit:
https://go.intellitriage.com/200935296226962
Option #2
Schedule Your Appointment by phone:
Please call us at (352) 732-7779 to book your Telehealth appointment at a specific date and time with your selected provider.
Upon scheduling your Telehealth appointment, you will receive an email from us with a link to download our Pocket Patient app with complete instructions.
At the scheduled time of your Telehealth appointment, you will receive an email with a link to access your Telehealth session.
Telehealth Q&A
Q:  What type of appointments can be performed using Telehealth?
A:  Ideal issues to be addressed using Telehealth include cases of acne, rosacea, eczema, psoriasis, skin discoloration, rashes, spot checks, wound checks, and itchy skin.  Urgent medical and surgical appointments must still be scheduled for an in-person appointment.  If you have an emergency, call 911.
Q:  Can minors participate in Telehealth?
A:  All Telehealth patients need to have their own unique email address, so as long as that's the case, they can participate.  A parent or guardian must be present for all Telehealth visits at this time.
Q:  Can I choose which doctor I want to see via Telehealth?
A:  You may schedule your Telehealth appointment with the physician or provider of your choice.
Q:  What if I need to cancel?
A:  Call our office immediately if you need to cancel or reschedule.
Q:  Who should I call if my provider is not available at my scheduled appointment time?
A:  If you allow push notifications on your device for the PocketPatient application, you should expect both a pop-up notification & email when your provider has initiated the meeting.  Once the provider initiates your video visit, the link will expire within 10 minutes if you do not join in. Please be sure to connect when you receive your notification. Call (352) 732-7779 (Ocala office) or (352) 750-6946 (Villages office) if you experience any difficulties.
Q:  What type of device can I use for a Telehealth appointment?
A:  Telehealth visits can be conducted through the PocketPatient app on your iPhone (iOS 11 or newer), Android (Android 7 or newer), or web browser (Chrome v46 or newer; Mozilla Firefox v42 or newer).
Q:  Are there any additional resources to help?
A:  Yes!  PocketPatient has created some useful videos to help explain the process more visually.
Dr. Freeman has instructional video's online if you need assistance. You can also call and the office staff can help. https://www.docfreeman.com/blog/telehealth-appointments
We provide superior diagnostics and patient care. We don't just remedy minor skin care issues, but treat more serious diagnoses as well.
Skin conditions that we treat include the following, as well as other problems that might arise:
Warts
Cysts
Eczema
Fungal Infections
Excessive sweating
Actinic keratosis
Psoriasis
Rosacea
Shingles
Alopecia (hair loss)
Mole Removal
Skin cancer screening
Dr. Freeman also offers well-known brands of skin care products, as well as his own label of products.
For healthy skin, your options are endless. Dr. Michael J. Freeman's Dermatology Practice takes your skin's health seriously from screenings, medical treatments, advanced skin care, cutting-edge technology, laser therapy, injectable therapies, body treatments to chemical peels and more, they've got you covered.
Michael J. Freeman, M.D., PA
Dr. Michael J. Freeman is a dermatology practice serving patients in Ocala, Florida and The Villages, Florida. Dr. Michael J. Freeman, David Kosiorek, PA-C, Dave Runyon, PA-C, and Sue Schmeltz, PA-C are all firmly dedicated to giving patients the best in care for conditions including squamous cell carcinoma, psoriasis, melanoma, rosacea, and many others. The Michael J. Freeman, MD, PA team believes that every patient deserves to have the healthiest and most beautiful skin. They work hard to help you achieve that through evidence-based therapeutics and the latest in dermatology technology and equipment.
The atmosphere at the Ocala and The Villages offices is designed to be calm, serene, and welcoming. The patients at Michael J. Freeman, MD, PA deserve to feel comfortable while they seek treatment for conditions like acne, eczema, rosacea, skin cancer, and rashes. Appointments can be conveniently scheduled through calling the office or through the easy-to-use online appointment maker.
Dr. Freeman and his associates offer comprehensive dermatologic care including full body skin checks, medical dermatology care, and cosmetic treatments in three convenient locations through Ocala, FL.
Even in these unprecedented times, Dr. Freeman is here for you!
Call (352) 732-7779, or select the link https://go.intellitriage.com/200935296226962 to schedule your appointment.