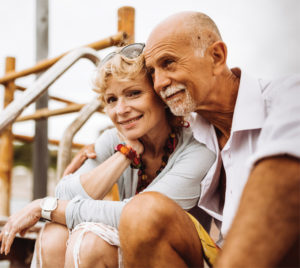 When it comes to men's health, we typically discuss conditions like heart disease and prostate cancer, but there is one issue that gets put on the back burner and chalked up to a "normal" issue more often than not. Sexual dysfunction in relationship causes men and women a great deal of anxiety, stress and depression, low self-esteem, and sexual self-doubt.
The issue that Dr. Parveen Vahora sees with many men and women is that the aging process takes a toll on their bodies, which can lead to less than stellar pleasurable moments with their significant other. In relationships, sexual intimacy is a common issue that many couples suffer with, and they often do so silently, without much dialogue or solution, which can exacerbate other problems and cause a great deal of tension on the relationship. Sexual disorders can happen to both men and women. For women, it's often due to vaginal and vulvar atrophy (VVA), and for men, of course, it's often associated with erectile dysfunction (ED). However, both conditions affect their partner's psychological wellbeing, just as much as it does with the one with the disorder.
There are three important questions that men & women should ask themselves:
1. Are you getting an ideal amount of sex?
2. Is it fulfilling?
3. Is your partner's (or yours if female) discomfort causing you less pleasure?
4. Do you want more pleasurable experiences more often?
As a woman, are you suffering from painful intercourse? If you are, your partner probably suffers too. Who doesn't want to feel better about their sexual health and confidence? But for countless women, they suffer from VVA, which causes significant pain and discomfort.
What is VVA?
Due to the limited estrogen supply, the walls of the vagina start to thin out, causing dryness, burning, and inflammation. This can make intercourse very painful and can cause urinary disorders and can even interfere with daily activities for many women due to the extreme pain and discomfort that it can cause.
Many women try to hide their condition from there partner, or just suffer in silence because they believe it's "normal" for them, but that couldn't be further from the truth.
Numerous postmenopausal women, pre-meno-pausal and after giving childbirth, have vaginal disorders, pain, and issues that they often times withhold and keep to themselves. They think that it's just a normal part of the hormonal process, but there are many options to relieve vaginal and vulvar atrophy. VVA disrupts your sex life!
Would you like to turn back the clock to when you first met?
Mona Lisa Touch® is an advanced procedure the revitalizes the vagina and makes it feel like a younger vagina. For Countless women and their partners, it has turned back the clock of time. This advanced technology is a new laser therapy for the vagina and vulvar. There are no medications, not cutting and no lengthy healing times with this procedure.
It's similar to having a basic Pap smear test done. The laser does not hurt or cause any pain. You will only feel tiny vibrating sensations from the machine, and the best part is that the entire procedure is accomplished in an outpatient, office setting.
The laser assists with the bodies cell renewal and will regenerate the mucous membrane and help with the restoration of collagen and renewing the proper trophic balance to the membrane.
Now it's possible to have relief from vaginal and vulvar atrophy due to the MonaLisa Touch's® ability to gently improve the tissue of the vaginal mucosa. The laser stimulates the production of collagen, improving the functionality of the treated area and restoring the proper trophic balance to the mucous membrane.
Parveen Vahora, M.D.
A Board Certified, fellowship trained laparoscopic gynecological surgeon, Dr. Vahora sees patients in her private practice in Trinity, Florida. She is an expert on sexual health and intimacy. In addition to being the only practitioner in the area to offer the MonaLisa Touch® Laser, Dr. Vahora performed the first single-site robotic hysterectomy in North Pinellas County. She is highly trained in minimally invasive procedures for conditions such as pelvic pain and is able to conduct sophisticated genetic testing.
Dr. Vahora is now offering genetic testing for men who may have personal or family history of colon, stomach, prostate, stomach cancer, or for women with a family history of breast, ovarian or uterine cancer.
The genetic testing may be free if patient qualifies even if they don't have insurance.
Don't just live with your disorder, get the relief and new beginning that you are worthy of. Connie, ARNP and Dr. Vahora can address many issues such as hormonal imbalance, hormone therapy, atrophy, pain with intimacy and many others that affect women.
Call today to schedule your MonaLisa Touch consultation or genetic testing appointment at (727) 376-1536.
Info@ParveenVahoraMD.com
www.ParveenVahoraMD.com
Connie Moler, APRN, joins Dr. Vahora's office. Originally from Central Illinois, Ms. Moler obtained a B.A. in Psychology from Indiana University. She then completed her MSN as a Women's Health Nurse Practitioner at Vanderbilt University. Ms. Moler brings her 20 plus years of experience and her joy of caring for women to her new position with Dr. Vahora.