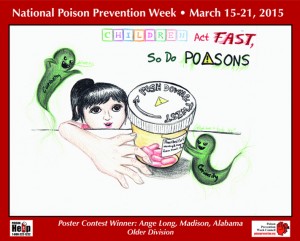 More than 2 million poisonings are reported each year to the poison control centers across the country. More than 90 percent of these occur in the home. The majority of non-fatal poisonings occur in children younger than six years old. And, poisonings are one of the leading causes of death among adults. National Poison Prevention Week is a week nationally designated to highlight the dangers of poisonings and how to prevent them using the following Medicine Safety Tips.
Medicine Safety Tips
. Ask babysitters, visitors, and houseguests to keep purses, briefcases or bags that contain medicines up high, away and out of sight from your children. The same rule applies when your children are visiting a friend or relative's home.
. Buy products in child-resistant packaging whenever possible. But remember, child-resistant is not childproof, and is designed to keep children away from the product for a short time before a parent notices.
. Use child-resistant packaging properly by closing the container tightly after use.
. If you think someone has been poisoned, call 1-800-222-1222 to reach your local poison center. This national toll-free number works anywhere in the U.S. 24 hours a day, 7 days a week, 365 days a year.
. Keep the poison center toll-free number near your phone, or program 1-800-222-1222 into your home and mobile phone.
. Read medicine and product labels before each use and follow directions exactly.
. Tell children what medicine is and why you must be the one to give it to them.
. Never call medicine "candy" to get a child to take it.
. Never leave medicine out on a kitchen counter or at a sick child's bedside.
. Always turn the light on when giving or taking medicine. Check the dosage every time.
. Put on your glasses to read the label when you need to take a medicine so that you know you have the correct amount of the right medicine.
. Avoid taking medicine in front of children.
. Never take more than the prescribed amount of medicine.
. Never "borrow" a friend's medicine or take old medicines.
. Tell your doctor what other medicines you are taking so you can avoid harmful or dangerous drug interactions. This includes prescriptions, over-the-counter medicine, vitamins and herbal products.
. Clean out the medicine cabinet periodically, and safely dispose of medicines that are expired or no longer needed.
. Always relock the safety cap on a medicine bottle. If the medicine has a locking cap that turns, twist it until you hear the click or you cannot twist any more.
. Don't remove medicine from a child-resistant package and put it in another type of easy to open container.
. Read the labels of prescription and over-the-counter medicine carefully to make sure you are not taking more than one product at a time with the same active ingredient.
. Use only the measuring device (dosing cup, dosing syringe, or dropper) that is included with your medicine. If a measuring device is not included or you do not receive one, ask for one from your pharmacist. Don't substitute another item, such as a kitchen spoon.
. If you don't understand the instructions on the medicine label, or how to use the dosing device (dosing cup, dosing syringe, or dropper), talk to your pharmacist or doctor before using the medicine.
. Never share or sell your prescription medicines.
. Monitor the use of medicines prescribed for children and teenagers, such as medicines for attention deficit disorder, or ADD.
. Keep medicines in their original bottles or containers whenever possible. If you transfer medicines to another container, such as a pill minder or organizer, store them in a place that is too high for a child to reach or see, since these containers are often not child-resistant. If possible, ensure the storage location has a safety latch.
. Some medicines are dangerous when mixed with alcohol. Consult your doctor or pharmacist before drinking alcohol if you are taking a prescription or over-the-counter medicine.
. Talk to your doctor before taking any vitamins or herbal supplements. They can interact with your medicine.