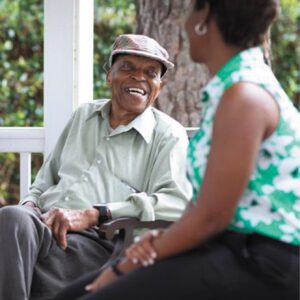 Countless people are making New Year's resolutions for change, whether that's living a healthier lifestyle or learning a new skill, but if you are a senior, It's time you found out more about your opportunities for change within your living conditions. Most seniors are tired of yard work and home maintenance and they desire a life that's full of laughter and socializing in the security of a senior community. With the freedom to come and go, enjoy the beautiful amenities and make lasting friendships, Sumter Senior Living is the place many seniors choose to call home.
Making the decision to move or transition into a senior community is life-changing, and in so many positive ways. As individuals age, many seniors want an active life without having to worry about yard work, shopping, cooking, and home upkeep. Many seniors want to be able to socialize and stay active, while others may need on going medical care or even memory care. With Sumter Senior Living, they offer several options that suit multiple needs for each individual or couple.
Sumter Senior Living provides Independent Living, Assisted Living, and Memory Care services and amenities catered to the individual.
See Yourself Here
Sumter Senior Living provides Independent Living, Assisted Living, and Memory Care services and amenities catered to the individual.
Our Independent Living lifestyle provides the day-to-day freedom to come and go and the convenience of any number of activities to choose from. It is the perfect fit for an active, healthy lifestyle where residents enjoy all-inclusive, restaurant-quality dining and weekly social gatherings. Sumter Senior Living is dedicated to empowering residents to explore personal interests and connect you with the greater community through transportation and full access to The Villages® amenities. Our Grand Clubhouse includes a full bar, heated pool, and fitness center. There is also golf cart accessibility with convenient charging stations.
Our Assisted Living lifestyle is truly catered to the individual, providing support and care that stands out from any other. Enjoy the comforts of home to call your very own and personalized assistance with daily routines that promote a healthy, social, and active lifestyle. Research shows that seniors who stay active and social experience better health, a greater sense of well-being, and may recover from illness quicker. Our planned activities and events provide fulfilling experiences each day with 24-7 help at your fingertips.
Our Memory Care specializes in providing compassionate care to individuals with dementia, Alzheimer's disease, and other neurodegenerative conditions. The challenges presented by memory loss can be difficult to navigate, but our specialized Village Program® is here to help every step of the way. The Village Program® offers personalized programming that engages residents in activities to best reflect their former schedules, lifestyles, and interests while providing a safe place where their unique interests are nurtured. We also provide It's Never 2 Late (iN2L) technology to engage and stimulate the intellect and provide connection through innovative technology.
Senior living encompasses many lifestyles and living options. From Independent Living to Memory Care, Sumter Senior Living is designed to enhance the lives and well-being of all. And our knowledgeable and experienced associates are here to assist and provide the resources for ensuring you or your loved ones find what best works for your family.
Sumter Senior Living is managed by Grace Management, Inc. (GMI), an industry leader in providing the best senior living experience. The company has been able to elevate industry standards by delivering exceptional living experiences while providing the resources and information seniors and their loved ones need to make important life decisions. Grace Management, Inc. is a subsidiary of CPF Living Communities and is ranked in ASHA's 50 largest seniors housing owners.
For more information, please visit www.gracemanagement.com.
For more information about Sumter
Senior Living or to schedule a personalized visit please call us at: 352-707-9959 or visit our website: www.SumterSeniorLiving.com.
We look forward to hearing from you!
Sumter Senior Living
1490 Killingsworth Way, The Villages, Florida 32162
352.707-9959
www.sumterseniorliving.com
Assisted Living License Number: 12227