By Bo Martinsen, MD
According to the CDC, an estimated one in five Americans live with chronic pain. What's worse is that many of these sufferers don't believe that medical treatment will help, or worry that the treatment will create more undesirable side effects than the pain itself.
In fact, many pain medications can cause serious side effects like gastrointestinal problems and addiction. But there is a natural anti-inflammatory agent that can also help manage pain – if we get the right dose and quality.
Omega-3 Oil and Pain Relief
Scientists have been investigating the relationship between omega-3 fatty acids and pain relief since the 1980s. Over the decades, numerous studies have found that omega-3 supplements may help patients lower pain scores and reduce their need for pain-relieving medications.
As we continually see, the benefits of omega-3s are dose-dependent. To understand the kinds of doses needed to achieve results for chronic pain, let's delve into the research:
Rheumatoid Arthritis Research
A double blind, placebo-controlled study from 2008 investigated the effect of consuming 10 capsules of cod liver oil every day. When taking 2200 mg of EPA/DHA, an astounding 65% of the patients significantly reduced their use of Non-Steroidal Anti-Inflammatory Drugs (NSAIDs) by more than 30%. The authors noted, however, that many participants withdrew early from the study because they did not like swallowing 10 capsules daily – and often experienced fishy burps and gastrointestinal problems (a common occurrence with fish oil capsules).
A 2012 meta-analysis similarly concluded that giving rheumatoid arthritis patients at least 2700 mg of EPA/DHA per day for more than three months reduced patients' need for NSAIDs.
In addition, a meta-analysis from 2017 concluded that omega-3 supplements had therapeutic potential for rheumatoid arthritis pain, with doses from 3000 to 6000 mg daily having the greatest effect. If using regular fish oil pills, that dosage would be the same as swallowing between 10 to 20 capsules every day.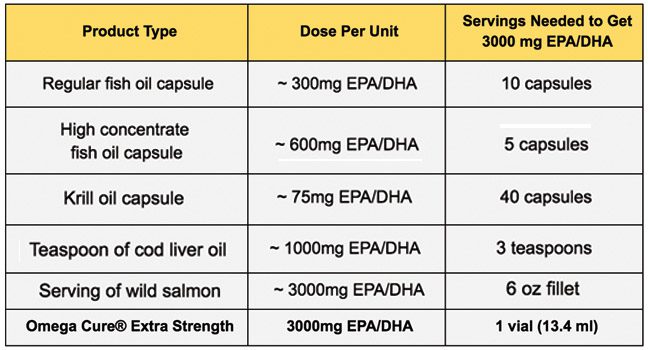 Osteoarthritis Research
While there's substantial evidence surrounding the benefits of omega-3s for rheumatoid arthritis, the research is more mixed when it comes to osteoarthritis. For instance, another 2017 meta-analysis reported that while there is generally a positive connection between omega-3 fish oils and reducing arthritis pain, the results did not reach statistical significance for osteoarthritis patients specifically.
It is possible, however, that some of the mixed results from osteoarthritis trials could be explained by bioavailability issues – or a lack of compliance.
For instance, a 2018 study found that having a lower omega-6 to omega-3 ratio was associated with less pain in adults with osteoarthritis. By measuring the participants' omega-3 index levels (the amount of EPA and DHA fatty acids within the red blood cells), scientists in this study had more reliable data and were able to determine how much omega-3 was actually being absorbed.
Why Omega-3s Impact Pain
Even if the research surrounding osteoarthritis isn't always clear, there are good scientific reasons for why omega-3s target chronic pain. Most notably, these fatty acids have powerful anti-inflammatory effects and operate on similar biochemical pathways as over-the-counter painkillers.
Additionally, since full-spectrum omega-3s positively influence cell functioning and provide numerous fatty acids for the gut bacteria, they may be able to increase the benefits of certain medications and/or reduce their side effects. Indeed, some scientists are currently exploring the potential use of omega-3s for combating the harms of opioid addiction.
An Effective Omega-3 Dose Is Crucial
In spite of the breadth of scientific evidence that omega-3 fish oil may help relieve chronic pain, most people never experience it. Why?
While fish oil's pain relieving effects have been recognized for some time, few people understand that sufficient doses are required for results. Therefore, patients often miss an opportunity to improve their quality of life because they are taking ineffective doses.
In the studies above, the omega-3 dosages used to achieve pain-relieving results ranged from 2200 – 6000 mg of EPA/DHA, used daily for at least 12 weeks. That would be the same as consuming between 8 to 20 regular fish oil capsules every day – or 1-2 vials of Omega Cure Extra Strength.
For the full article and references, please visit:
https://omega3innovations.com/blog/an-omega-3-
strategy-for-pain-relief/
Bo Martinsen, MD
Dr. Martinsen is an omega-3 specialist, innovator, and advocate for natural foods. As co-founder and CEO of Omega3 Innovations, he has created several medical food products that combine effective doses of omega-3s with soluble fibers and other nutrients. Before Omega3 Innovations, Dr. Martinsen practiced medicine in Norway for 20 years.
OMEGA 3 INNOVATIONS
941.485.4400