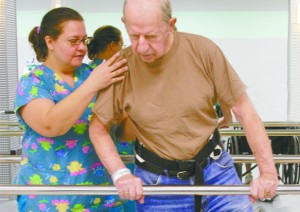 At North Campus Rehabilitation and Nursing Center, we know that each person who comes to us for rehab and nursing care is a unique individual whose needs extend beyond treatment for medical conditions.
We know that regaining strength and health depends on an environment that addresses the whole person – body and mind, heart and soul. We want to keep you surrounded with friendly staff who get to know you and your particular needs and preferences and can make your stay comfortable and productive.
We encourage your active participation in making healthcare decisions as well as your exercise of personal choice in matters related to dining, bathing and personal care, and hours for rest and activity. We know that healthcare goals are best met by putting people first.
North Campus Rehabilitation and Nursing
Center is a member of mid-central Florida's most progressive family of rehab and skilled nursing centers: Arbor Village Rehab and Nursing Center south of The Villages, South Campus Rehabilitation and Nursing Center in Leesburg, and the new Villages Rehab and Nursing Center in Lady Lake.
We accept Medicare, Medicaid and most private insurances.
In accordance with Federal law, the above facilities offer admission and services without regard to race, color, national origin, disability or age.
Our Services Include
. Intensive rehabilitation and therapy for conditions related to surgery, stroke and neurological impairment, pulmonary, cardiac and orthopedic events, and for general strengthening.
. Treatment for stroke and other neurological impairments; post-cardiac care; post-surgical care (including hip and knee replacement and other surgical procedures); respiratory and trach care; wound care; treatment for infectious and non-infectious disease; TPN and IV therapies.
. Private and semi-private rooms.
. Newly renovated therapy gyms.
. In-house dental, hearing and optical services.
. Free transportation to and from medical appointments.
. Beauty and barber services available weekly.
. Non-denominational chapel; regular religious services and chaplain visitations.
. Regularly scheduled activities.
. "Quiet Room" indoors for visits or special events with family and friends.
. Outdoor gardens with paved walkways, plentiful seating and a large gazebo.
Our Team
. Physicians, surgeons and specialists in orthopedics, cardiology, neurology, infectious diseases, gastroenterology, pulmonology and wound care who make bedside visits
. Physical, occupational and speech therapists who are using the latest innovations
. A team of nurses and nursing assistants assigned to get to know you as an individual
. Dietician
. Psychologist and psychiatrist; social worker
In addition to meeting your healthcare needs, staff members and service providers at North Campus Campus Rehab work together to assist you in being as happy, safe, active, independent and comfortable as possible.
352-323-2400
700 North Palmetto St
Leesburg, FL 34748
We know that a good state of mind
is essential for meeting
health care goals.