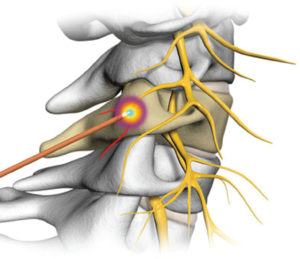 Are you one of the millions of Americans suffering from chronic back or neck pain? Have you tried multiple treatment options with little or no success? If so, radiofrequency ablation might be the solution to your chronic pain.
At the Spine & Pain Institute of Florida in Lakeland, Florida, Navdeep Jassal, MD, and his team are experts at performing radiofrequency ablation. This minimally invasive treatment can get rid of your pain for months, years, or even forever.
What is radiofrequency ablation?
Radiofrequency ablation is a treatment that uses electromagnetic waves to create heat. The heat destroys the nerve tissue that's causing your pain. With the nerve destroyed, the pain signal is no longer sent.
What conditions are treated by radiofrequency ablation?
Dr. Jassal uses radiofrequency ablation to help patients with chronic pain in the lower back, neck, and sacroiliac joints, which are located in the pelvis. Patients with joint pain related to arthritis may also benefit.
It's also possible to treat other pain conditions with radiofrequency ablation. The team at Spine & Pain Institute of Florida will give you a thorough evaluation to determine the best course of treatment for your symptoms.
How does radiofrequency ablation work?
Radiofrequency ablation is minimally invasive, and the procedure typically takes less than an hour. It's performed on an outpatient basis, and patients are usually allowed to go home after a short recovery period.
Typically, you are given a local anesthetic at the treatment site. Then, using a special X-ray, Dr. Jassal inserts a needle near the nerve that's causing your pain.
Once the needle is in place, a radiofrequency current is passed through the needle to create a precise burn on the nerve. This destroys the part of the nerve responsible for transmitting pain and disrupts the signal to the brain.
Dr. Jassal will provide you with specific post-procedure instructions, and these usually include avoiding driving for 24 hours as well as resting and avoiding strenuous activity for 24 hours.
Is radiofrequency ablation effective?
Yes. More than 70% of patients experience lasting relief with radiofrequency ablation. It usually takes 1-3 weeks for the treatment to take its full effect.
Pain relief typically lasts 6 months to 2 years, and for some patients, the pain never returns. It's possible, however, for the nerve to regrow. In these cases, radiofrequency ablation may be required again.
Are there any risks associated with radiofrequency ablation?
Radiofrequency ablation is a safe procedure with few risks of complications. Serious complications, such as infection and bleeding, are rare. Temporary side effects — which are also uncommon — usually only last 2-3 days.
They include:
Localized numbness or weakness
Mild discomfort or an increase in pain
Swelling or bruising at the incision site
The treatment is not a good option for women who are or may become pregnant, people with an infection, or those who suffer from bleeding disorders.
You don't have to live with pain any longer. If you're suffering from chronic pain, book an appointment online or over the phone with Spine & Pain Institute of Florida today.
Spine & Pain Institute of Florida
833-513-7246 (PAIN)
FAX: (863)-333-4007
www.spiflorida.com
1417 Lakeland Hills Blvd. Ste 201, Lakeland, FL 33805
About Dr. Jassal
If you want an award-winning expert who offers the latest treatments to reduce pain, look no further than Navdeep Jassal, MD. At his practice, Spine & Pain Institute of Florida, located in Lakeland, Florida, Dr. Jassal treats a wide variety of pain types with comprehensive, personalized, evidence-based care.
Dr. Jassal started his medical education at the University of California, San Diego, where he earned his bachelor of science in biology. He then continued onto Ross University School of Medicine in Dominica, West Indies, completing his Doctor of Medicine degree. He completed his physical medicine and rehabilitation residency at the Zucker School of Medicine at Hofstra/Northwell in Great Neck, New York, and was elected chief resident during his final year. Dr. Jassal then rounded out his medical training with a pain medicine fellowship at the University of South Florida Morsani College of Medicine in Tampa, Florida.
Today, Dr. Jassal is certified by the American Board of Physical Medicine and Rehabilitation in both pain medicine and physical medicine and rehabilitation. He leverages his pain medicine specialty to help patients manage even the most complex pain.
Dr. Jassal treats chronic and acute pain, including cancer pain, neurological pain, and musculoskeletal pain. To do this, he offers each patient a personalized interventional treatment plan that may include tailored physical therapy, medication, and procedures like implantable spinal cord stimulators, intrathecal drug delivery systems, lumbar decompression, minimally invasive sacroiliac joint fusion and more.
When he's not treating patients, Dr. Jassal extends his expertise to others. He serves as an assistant professor for the Department of Physical Medicine & Rehabilitation at the University of Central Florida as well as an assistant clinical professor for the University of South Florida's pain medicine fellowship. He is also actively involved in research to uncover new, minimally invasive ways to treat spinal pain.
Dr. Jassal is an award-winning physician. In the Tampa edition of Top Doctor, he was voted the #1 Tampa pain physician in 2018 and was runner up in 2019. The University of South Florida named him Pain Faculty Attending of the Year in 2018. In addition, he recently won first place at the annual meeting of the American Society of Interventional Pain Physicians for his research and consistently presents at regional and national conferences on his outcomes.