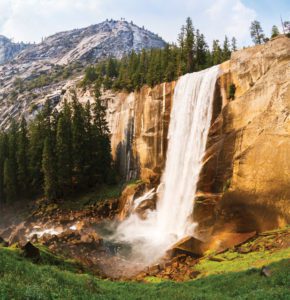 Breathtaking National Parks lie within the red rocky terrain of the American West. With most travel organizations, your tour will only include three to five parks, but with YMT Vacations, you'll get to visit nine of the unique rocky backdrops among the cacti, desert brush, lakes, pine, and redwoods. If you're taking the time to experience the majestic parks out west, you will not want to miss a thing!
YMT Vacations reserves the perfect accommodations, so the landscaping and architecture are superb, and your trip is tailored to your needs, wants and desires.
This motorcoach tour begins with your arrival in fabulous Las Vegas, Nevada with leisure time to enjoy the endless entertainment opportunities. Take a chance at a card game or roulette, visit a show, or simply relax at your hotel. Then the tour is off to see Natural Wonders, and it is only befitting to start with a bang: one of the seven Natural Wonders of the world- the majestic Grand Canyon National Park. If it's your first time to the Grand Canyon, you'll understand why pictures could never do it justice. The colors and textures are incredible. Here, you'll enjoy an overnight stay inside the park giving you the opportunity to witness this awe-inspiring landscape both at sunset and sunrise.
The next site to explore is the sacred Monument Valley Navajo Tribal Park, the Navajo Nation's equivalent to a national park. The sunset out west turns flaming red and orange, and the dark, quiet, nighttime sky is illuminated with countless stars.
You'll then journey further west to visit Zion National Park where 2,000-foot sandstone cliffs tower above. Zion has a great deal of grassy expanse, so seeing families of deer and other wildlife is common.
From there, Bryce Canyon National Park is the next stop. Bryce Canyon is well known for its abundance of Hoodoo sandstone. Hoodoos look similar to stalagmites but with much greater immensity. The mornings and evenings are cool and crisp, and the afternoons are warm and bright. You can walk and observe the natural rock formations, or just sit back and enjoy the view. The park's Dark Rangers often offer guided night-hikes among the moonlit hoodoos.
The journey then heads northeast through picturesque Capitol Reef, Arches and Canyonlands National Parks enjoying the stunning vistas of naturally formed sandstone cliffs, arches, canyons, domes and bridges throughout.
Heading further west, you'll travel into Utah's capital, Salt Lake City and see the lake that gives this city its name. It's the largest saltwater lake in the Western Hemisphere. You'll also visit the nearby Bonneville Salt Flats, famous as a site for land speed records.
Then guests head off to Majestic Lake Tahoe, which has 72 miles of pristine shorelines making it the largest alpine lake in North America. The town is quaint, restaurants are fabulous, and the stunning green atmosphere couldn't be better.
From here it is on to California to Yosemite National Park where you will witness its extraordinary landscapes of granite cliffs, plunging waterfalls, towering trees, pristine streams, and abundant wildlife.
In California, you'll continue through Kings Canyon National Park and view the famed ancient giant redwoods, some of which tower over 300 feet. Weather permitting, YMT travels through Death Valley National Park, the lowest point of elevation in North America on the way back into Las Vegas for your departure home. You'll have memories to share for a lifetime.
Out west, the sunset and the sunrise cast vacillating impressions depending on how the light filters. The parks take on different forms and can seem to change throughout the day.
This is an excellent trip for all ages including multigenerational families. It's appropriate for all levels of fitness and function. These gorgeous National Parks are in our country, in our backyard! If you decide to see them, they are awe-inspiring and rejuvenating.
YMT Vacations
If you're looking for the best choice in affordable travel, look no further than YMT Vacations! Since 1967, they have provided mature travelers with affordable, fully-
escorted tour and cruise tour vacations to Hawaii, Alaska, Europe, and beyond. Their goal is to take you to the destinations of your dreams and give you an incredible experience to last a lifetime, all at a price that fits your budget.
YMT offers their guests a wide variety of the best in affordable vacation packages, carefully curated by their team to reflect the interests of modern, mature travelers. Their hassle-free packages include hotels, sightseeing, baggage handling, and expert Tour Directors and driver guides. They obtain excellent rates that they can then pass on to their valued guests. YMT can even book your roundtrip airfare, and they throw in transfers to and from the airport for free!
At YMT Vacations, you get more than just incredible value, you get to be part of a community. On your vacation, you'll connect with new destinations and cultures, with Tour Directors, and with your fellow YMT travelers. They have served over one million travelers through their time-tested tours, and nearly half of their customers are repeats or referrals!
Let YMT show you why they truly are the best travel value available. What are you waiting for? It's time to travel!
To find out more about this trip or other fascinating destinations, please contact YMT Vacations at 888-702-9497, or visit ymtvacations.com.