Submitted by Hospice of Marion County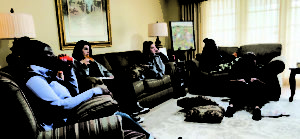 No one could have foretold the unfolding events of spring 2020. It is said the entire world is undergoing an experience of "collective grief." We are grieving the loss of daily life as we knew it, the loss of jobs, the loss of schools, family gatherings, sports and art activities, and for so many, the death of loved ones.
As COVID-19 sweeps through our country cutting down people of all ages, other families are facing the loss of loved ones taken by old age or disease. While loss envelopes all of us on some plane every day, imagine what it's like to experience the grief of losing a loved one in the midst of this compounding helplessness.
During Mental Health Awareness Month, we must all remember that mental health is as important as physical health. While we may have little control over physical health, we do have options when it comes to staying grounded while undergoing the journey of grief.
That is where the Monarch Center for Hope & Healing can help. Available at no charge to the community, the center has been offering adult, teen and children's programs, counseling and groups for more than a decade. In this era of social distancing, those face-to-face meetings are off-limits for now, but the Monarch Center's staff is at the forefront full force to work with bereaved families and individuals via phone, email or teleconferencing. Their message is that loss of control over external events does not mean loss of everyone's wealth of inner strengths.
The Monarch staff guides people in understanding that grief is natural and necessary to healing. "It's essential to feel the pain, not suppress it," says Director of Bereavement Jessica McCune. "Our Soul Injury program reminds people that you cannot heal what you cannot feel. We have developed ways of expressing loss through creative pursuits. These techniques can still work with people via various means of communication to help them through this difficult time."
The Monarch Center's phone lines are open Monday-Friday, 8 a.m.-5 p.m. Call (352) 873-7456 to speak with a counselor.