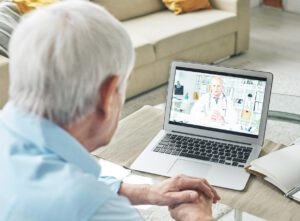 Dr. Anthony Desmarais
Rivers Family Medicine welcomes Dr. Anthony Desmarais.
Dr. Desmarais completed his final year of residency at Lower Bucks Hospital in Bristol, Pennsylvania. He completed his Medical Degree at Philadelphia College of Osteopathic Medicine's home campus in Philadelphia. Prior to this, Dr. Desmarais served in the United States Army for 8 years. He went to the highly prestigious West Point Military Academy in New York right after high school, earning his BA in Information Systems Engineering as well as his commission to the ranks of a military officer where he continued his military service, including a year-long deployment to Iraq in 2009.
Dr. Desmarais and his wife Kelly have two children. Dr Desmarais is committed to providing thorough, compassionate, mindful care for his patients, and he also has a passion for anti-aging medicine and helping patients live their most optimal healthy life through aspects such as hormone optimization and lifestyle modifications. He is accepting new patients now.
If you're looking for a new Primary Care Physician, please call now to schedule an appointment.
Rivers Family Medicine
Rivers Family Medicine provides their patients with the highest quality of care.
At Rivers Family Medicine, they provide experienced, knowledgeable, and compassionate care to help their patients meet individual healthcare goals.
River's Family Medicine Services:
They offer a variety of onsite services for your convenience and to help assists in your care:
• In house laboratory
• Ultrasound
• Echocardiograms
• Electrocardiograms
• Nuclear stress testing
• Pulmonary function testing
• Joint injections
• Skin biopsies and minor skin procedures
• Immunizations
Do You Need Telehealth-Virtual Visit?
Rivers Family Medicine offers comprehensive care all within their office. They also have implemented telehealth for the convenience and safety of their patients and staff.
NOTE: All Sick Visits will only be Telehealth visit to maintain safe distances and reduce exposure.
To best serve patients they will be operating with regular business hours Monday – Thursday 8 – 5 and Fridays 8 – 12. For staff and patient protection, they are not allowing any patients to sit in the waiting room. All patients upon arrival will wait in their car outside until a Nurse can check your temperature and verify you have no common cold symptoms. If you do not feel well, please call, as the Rivers Family staff will triage, evaluate your symptoms, and direct you to the appropriate next steps for further evaluation and treatment.
Rivers Family Medicine continues to provide their patients with the highest quality of care; they are continually looking for innovative methods of working together with their patients to ensure that they are not only aware of but also involved in the management and improvement of their patient's health.
To schedule an appointment with Rivers Family Medicine, please call (352) 205-4302.
For their patients convenience, Rivers Family Medicine is opening a second office in The Villages. This second office will open after the first of the year at 2771 Brownwood Blvd, The Villages 32163.
Rivers Family Medicine
352-205-4302
www.riversfamilymedicine.com
1503 Buenos Aires Boulevard, Building 110
The Villages, FL 32159