Limbstitute Comprehensive Vein Care and Limb Salvage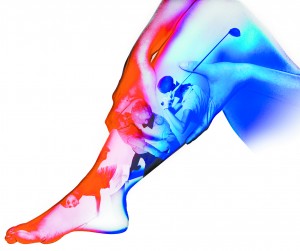 The statistics are staggering: Almost one of every 200 Americans has suffered an amputation — about 97 percent of those to a lower limb.
The real tragedy? Many of those losses could have been avoided with swift and adequate intervention. Simply put, the Limbstitute Comprehensive Vein Care and Limb Salvage with offices located in The Villages, Summerfield and Tavares, was created to do just that.
The newest addition to the Institute of Cardiovascular Excellence family, the Limbstitute provides comprehensive vein care and incorporates the latest technologies — closing off veins with radio waves for example — to get the best results. The staff members there are also wound care specialists and experts in artificial skin grafts. Their mission is to do whatever it takes to save a limb and give a patient their life back.
Indeed, the key to the success of the Limbstitute is that all of the many specialties involved with reversing the declining health of an arm or leg have been gathered together under one roof. Inside its 4,000 square feet of designated examination rooms, labs, testing and treatment facilities, medical professionals and physicians have been hand-selected from various specialties to form a collective team dedicated to a singular goal: the treatment and management of peripheral vascular diagnoses.
In the past, patients in danger of losing a limb traditionally would have had to shuttle between various doctors in separate facilities: a cardiologist, medical internist, phlebologist, podiatrist and specialists in infectious disease and wound care to name just a few. Not only was it inconvenient, chances are that those specialists were not committed to a total focus on limb salvage.
The Limbstitute provides a better way, with all of the tests and treatments and physicians necessary to intervene and reverse the effects of critical limb ischemia on the same page — and under the same roof.
innovation – compassion – excellence
Summerfield – 352.233.4393
Tavares – 352.259.5960
The Villages – 352.259.5960
limbstitute.com
Meet the Specialists
Tom Tran | PA-C, MPAS, Phlebologist
Member of the American College of Phlebology
The Limbstitute is fortunate to count Tom Tran among its staff of medical professionals. He brings a unique and lauded background to bear on the special challenges associated with venous disorders. He worked his way through college and went on to become a registered nurse in the ICU at Shands Hospital in Gainesville. Afterwards, he accepted positions with several emergency departments throughout Florida.
Tom capitalized on his interest in venous health by inventing a medical device — the Transcatheter Extractor — and started his own company to sell his device throughout the U.S.
"I often removed a patient's catheter through surgery," Tran says.  "This device allows for less down time for the patient and takes him out of the operating room and into the doctor's office."
He was named Physician Assistant of the Year
in  Florida in 2007 and appeared in numerous articles throughout the nation. He is actively involved as a Board of Trustees member of the Physician Assistant Foundation, and is an adjunct instructor for the NOVA University
Physician Assistant Program.
Mike Richards | PA-C, MPAS, Phlebologist
Member of the American College of Phlebology
Fellow Member American Academy of Physician Assistants and Member Florida Academy Physician Assistants
Mike Richards sees patients every day whose problems could have been avoided or at least minimized with a little forethought.
"Certain things we do to ourselves on a daily basis can lead to long-term issues," he says. "Something as simple as wearing high heels can cause damage over time to vein valves and lead to venous insufficiency, varicose veins and worse. The opposite is also true. Patients who are aware, who have proactive habits and recognize potential problems
early almost always have better outcomes."
Mike is proud to be a part of the Limbstitute family.
"What's important with The Limbstitute is that we are able to assess and treat all of a patient's limb issues at one location," he says. "Arterial problems such as PAD, venous reflux that can lead to leg ulcers, wounds that just won't heal. We have it all under one roof, along with specialties like cardiology, phlebology (vein care) and internal medicine. Even
nutrition consultation, which can be critical to healing and a positive long term result."
Save a limb. Save a life. It's a prescription written daily at the Limbstitute. Certainly the statistics can be daunting. But for the professionals in limb salvage who take it one limb/one life at a time, every good outcome is a victory that spurs them on to the next challenge. The arms and legs of the people in Central Florida are all the healthier because of it.